Welcome, my friends to this week's news and reviews.  So this was a cutting week folks as only one comic stood out to me and a lot headed to the chopping block.  We also had some bad news this week and some surprising, but welcome news as well.  So sit back and relax as we sort out the good from the bad in this week's Spandex and Capes.
Review List
June 14th, 2015
"Ever dance with an angel in the bright sunlig… dammit!" - H. Quinn


PREVIOUSLY…
TV News: Well, it's official – Constantine is dead.  I was really hoping someone else would pick it up – Netflix, Hulu, even the CW.  Here's hoping that we see Matt Ryan on Arrow soon though.  Meanwhile, Jon Bernthal will be joining Daredevil as the Punisher and "AKA Jessica Jones" will become just "Jessica Jones" (and if that's the official logo, it's kind of bland).  And finally, CBS released the premiere date for Supergirl as October 26th.  Can't wait for that.
Movie News:  Not much in movie news this week, but Warner Bros. released the synopsis for Batman v Superman… which reads pretty much like you'd expect.
Comic News:  So Captain America: White – the LONG delayed work from Jeph Loeb and Tim Sale – has been scheduled for release for this September.  Since it was originally schedule for 2008, let's file this under I'll believe it when I see it.  Speaking of future releases, Dark Horse Comics released its solicitations for September.
REVIEWS
Inhumans: Attilan Rising (Marvel)
By Charles Soule with art by John Timms
So let start by saying, this comic isn't bad.  The art is serviceable and the writing is ok, I just don't care about anyone here.  None of the characters are engaging and honestly, I didn't care about them in the 616.  And when did Black Bolt become the hero of the downtrodden?  Seriously, he's been the good guy's poster boy for a monarchy and now's he's suppose to be leading the resistance against a tyrannical Medusa?  I know these are suppose to be different flavors of the characters we know and love from the 616, but whenever they do a "What If…" there's always some semblance of the base character in there.   Here, I don't feel like there is.
Inferno (Marvel)
By Dennis Hopeless with art by Javier Garron
You know how many times I've seen the "let's save Illyana" plotline?  Enough times that I DON'T CARE ABOUT IT.  I mean this was the EXACT plotline from Age of Apocalypse (which I believe is coming out next week).  If Kitty was here, it would be the same thing to the tea.   I'm just tired of Colossus being the guy that solely defined by his sister.  They don't seem to know what to do with an incredibly rich character if he's not pining after his demon possessed sister.  I hope after this the find something better to with Colossus.
Mrs. Deadpool and the Howling Commandos (Marvel)
By Gerry Duggan with art by Salva Espin
No… just no… I'm sorry, I can't do it.  There is nothing that can make me read this book.
Red Hood/Arsenal (DC)
By Scott Lobdell with art by Denis Meori
So, I've come to the conclusion that Mr. Lobdell works best when he has a co-writer as he did when he helped with Convergence.  Heck, I think he and Mr. King did an excellent job there.  Unfortunately, when he's he's on his own things get a little… 90s?  I mean seriously who designed these outfits and why the hell did they think they were good idea?  And now instead of being "Outlaws", they're mercenaries?  Sigh.  When Mr. Lobdell finally stops getting work I might come back to this.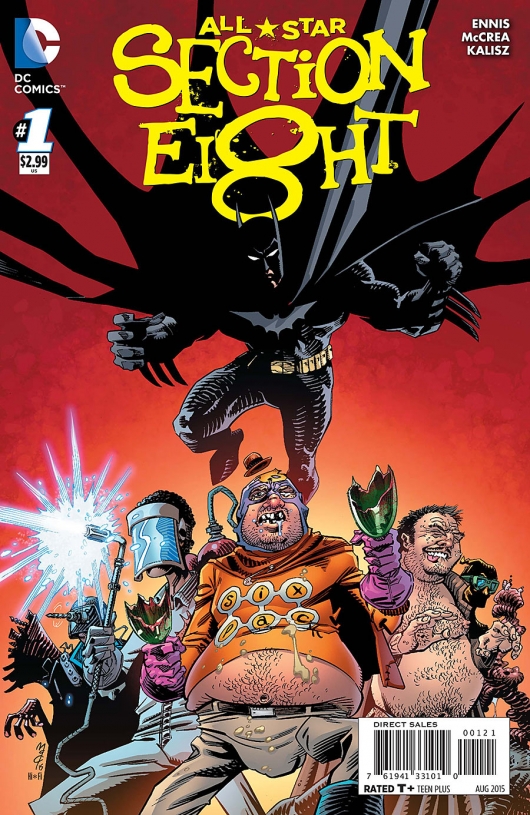 Section Eight (DC)
By Garth Ennis with art by John McCrea
I'm going to be honest – this might be a great comic, but it's not for me.  I couldn't honestly get past the artwork or first three pages.  If you want to give it a try, be my guest, but I'm out.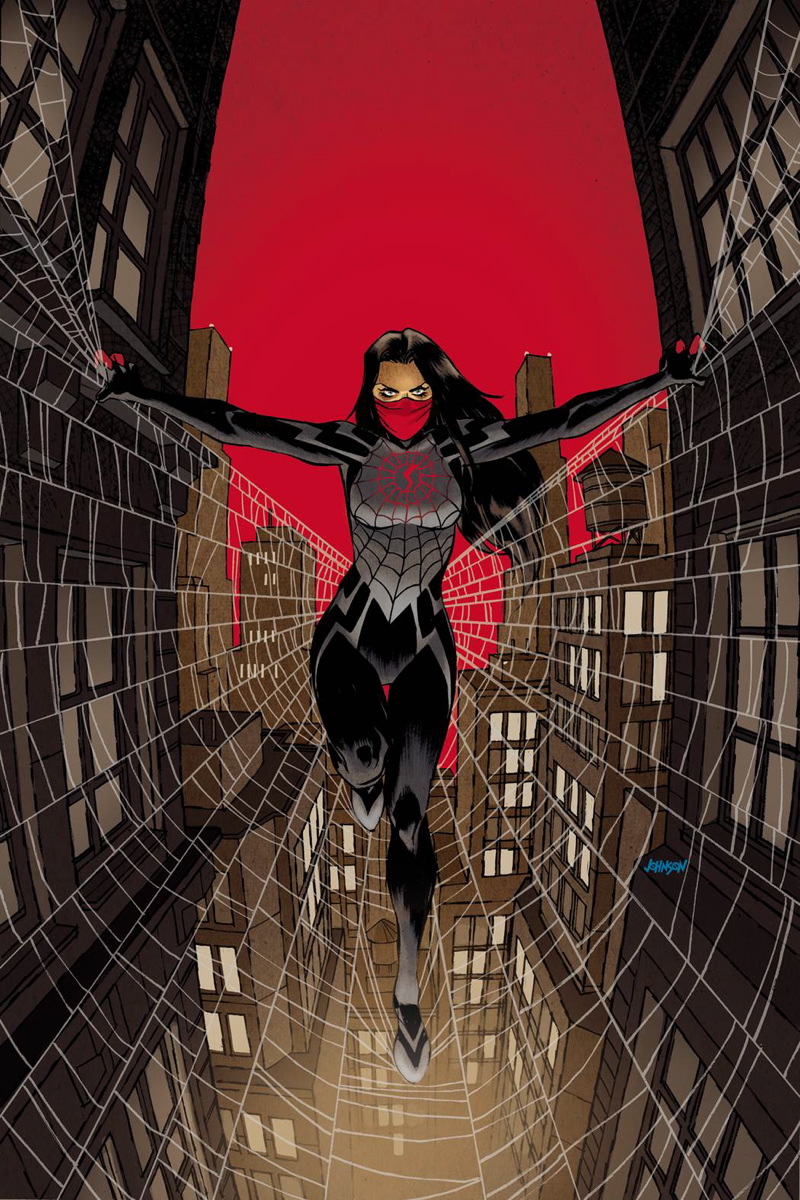 Silk (Marvel)
By Robbie Thompson with art by Stacey Lee
So this is the first of three spider books I'm dropping this week – mainly because the character is idiotic and the premise is ridiculous (and that's saying something given what it originated from).  I think this would have been better without the missing family and if they had teamed her up with the Spiders from the end of the Spider-Verse story.  Otherwise, this just feels like Marvel trying to shove a character down our throats.
Spider-Gwen (Marvel)
By Jason Latour with art by Robbi Rodriguez
Again, this book really isn't for me.  I don't get the draw of Spider-Gwen.  Sure, she's got a cool design, but there's not much more to her.  Even after five issues.  And honestly, "Spider-Gwen" is the dumbest name I have heard of for the title of a book.  Spider-girl maybe since Spider-Woman is already taken?  Oh, but wait, that belongs to a better, far more interesting character that for some reason can't keep her own series going.  The other problem is that Secret Wars rages on, destroying every universe – except apparently this one.  It really blunts the edge of Secret Wars blade having this book around and uninvolved.
Spider-Verse (Marvel)
By Mike Costa with art by Andre Araujo
So after a crossover which consisted of getting this team together, the first few issue of this series decided that the best way to kick things off would be to… get the band together.  Sigh.  They even say it in the book for God's sake.  The art is also kind of annoying – though I honestly can't put my find on why.  Funny enough, though, if this became a regular book and Silk and Spider-Gwen moved to it permanently – I would have no problem never reading it or worrying what these characters were doing.
Batman #41 (DC)
By Scott Snyder with art by Greg Capullo
Our first official introduction to Batman goes fairly well.  We find out how Jim Gordon got picked and he voices many of the same concerns as the fanatical bat-base.  The current day story is kind of vanilla though.  The villain is an unknown and Gordon seems to reach the right conclusion seemingly by luck.  But the characterization is spot on and it's nice to see that the mech suit isn't the only bat suit – underneath it all is something a little more familiar.  Oh, and the color palette scene was a hysterical throw back to the various costumes Batman has worn over the years.  I want it to break down, so that the suit switches colors every panel.  The end was a bit of a surprise – I didn't expect to see Bruce Wayne again for a while – though a part of me wonders if he's actually Hush.
Batman '66 #62 (DC); Batman/Superman #21 (DC); The Big Con Job #4 (Boom); Birthright #8 (Image); Captain America and the Mighty Avengers #9 (Marvel); Captain Marvel and the Carol Corps #1 (Marvel); Catwoman #41 (DC); Constantine: Hellblazer #1 (DC); Detective Comics #41 (DC); Earth 2: Society #1 (DC); Ghost Racers #1 (Marvel); Harley Quinn #17 (DC); Injustice: Gods Among Us Year Four #6 (DC); Marvel Zombies #1 (Marvel); Nameless #4 (Image); Savior #3 (Image); Secret Wars 2099 #2 (Marvel); Secret Wars Journal #2 (Marvel); Sensation Comics Featuring Wonder Woman #38 (DC); Silver Surfer #12 (Marvel); Starfire #1 (DC); Suicide Squad #9 (DC); Kanan: The Last Padawan #3 (Marvel); Ultimate End #2 (Marvel); Weirdworld #1 (Marvel); Witch Hunter Angela #1 (Marvel)