Once more into the breach!  DC Comics puts out it's best week of Convergence and the world ends in Marvel.  Oh, yeah, and a little movie called Avengers: Age of Ultron came out this week.  It was a slow news, but a lot of good books, so we're going to skip the news and head straight to the reviews here at Spandex and Capes!
Review List
May 3rd, 2015
"It's the end of the world as we know,
it's the end of the world as we know,
it's the end of the world as we know it,
and I feel fine…."
- S. Rogers, T. Stark, and the Avengers
REVIEWS
Batman #40 (DC)
By Scott Snyder with art by Greg Capullo
So, while this issue started with a whimper it ended with a bang that sent everything crashing down around Batman.  Mr. Capullo's art has never been better in this issue and the pacing was just right.  My biggest complaint is that the end of last issue (with Batman teaming up with his villains) didn't seem to pay off in this issue.  Like Joker, we were tricked into thinking that this was going to be the last battle.  But, as readers, we should have known better, the last battle with Joker will always be one on one and personal.  The nice part is that Batman came to same conclusion that many of the readers had come to: that while Joker is evil and scary, he has not been there since the beginning.  He is mortal and at some point, his time will end.  And that in his last moments, he like every other member of the superstitious and cowardly lot, he feared the Batman.  I have thoroughly enjoyed "Endgame" and with news coming of what's next for Batman in June, I can't wait.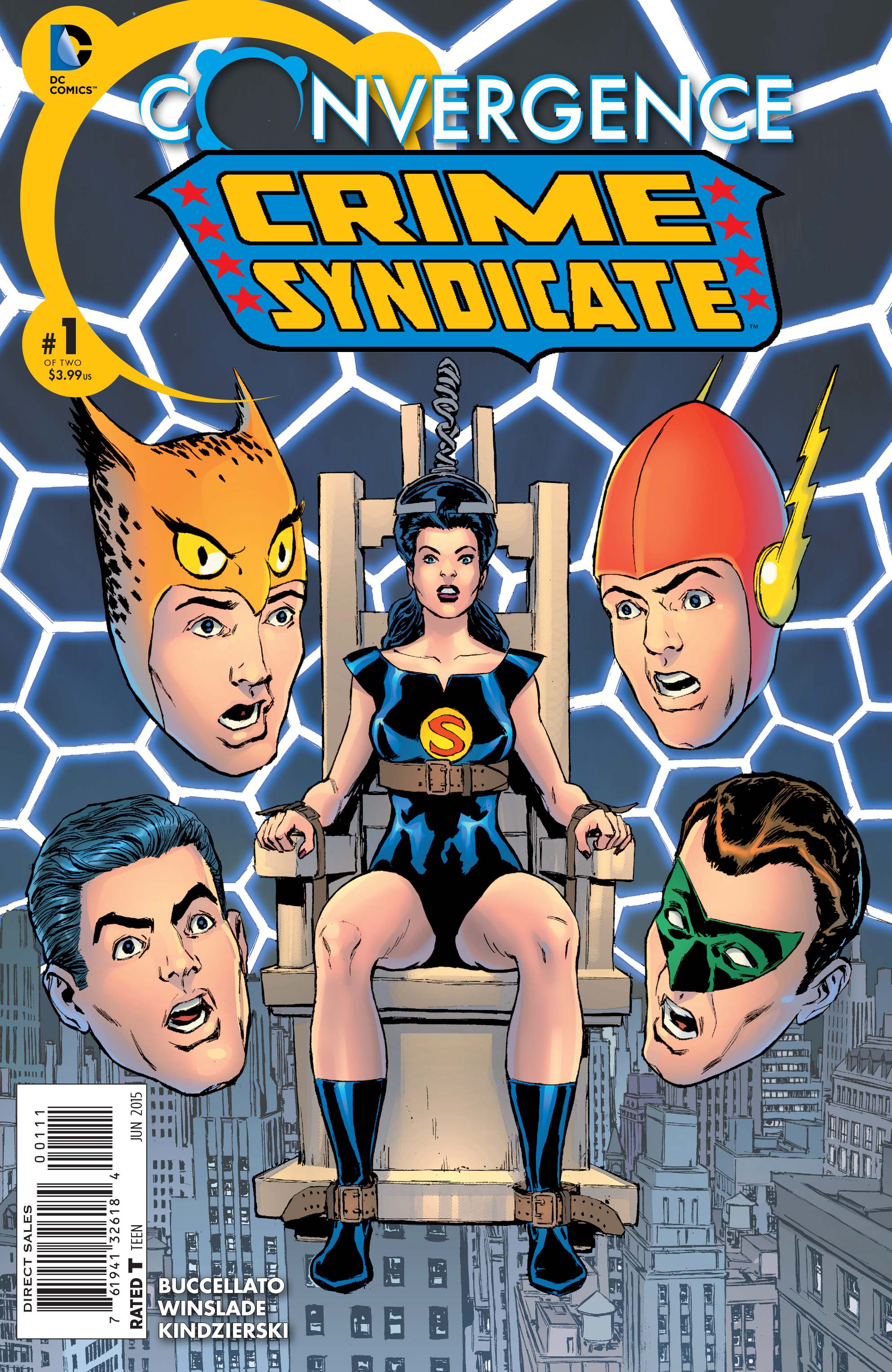 Convergence: Crime Syndicate #1 (DC)
By Brian Buccellato with art by Phil Winslade
So in this issue shows us a very different Crime Syndicate than what we're used to.  In this world, one built in the sixties, the Crime Syndicate simply wanted rob banks.  It's a strange change from the worlds conquered by the Crime Syndicate in recent years.  And honestly, it was an interesting.  It allowed us a more human look at the Crime Syndicate than Forever Evil did.  Instead of just being evil as their more modern counterparts, they were a team – Owlman truly loved Superwoman and was saddened by her loss. And Superwoman seemed genuinely remorseful as she made her way to death row.  Even Ultraman grasped the importance of symbolism – though I think he wants to fight for his city so that he can take revenge for Superwoman's death later.   Overall, this was a very enjoyable issue.
Convergence: Plastic Man and the Freedom Fighters #1 (DC)
By Simon Oliver with art by John McCrea
I have a confession – ever since Plastic Man's short lived series in the '80s, I have loved the character and wished that DC would do more with him.  The rumored Ethan Van Sciver series would have been great.  So when it comes to this book, I'm a little basis because of Plastic Man – but it was great.  While largely a set-up and background book, everything is handled very well.  We're given a good glimpse of the world and insight into Plastic Man. The other characters are mostly just there, pieces in the story that I'm hoping will get fleshed out next issue, which I'm looking forward to.  I will say, now that we're done the first round of #1s in Convergence, I find myself curious how each of these are going to end.  Not the individual stories, but the stories as a whole. Will we get a proper send offs for these characters?  Will some of them bleed through to our Multiverse?  Or will we be left wanting more as we were the first time these characters vanished?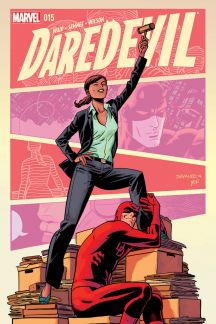 Daredevil #15 (Marvel)
By Mark Waid with art by Chris Samnee
Wow.  That turned sour fast.  I mean seriously fast.  As Shroud has the Owl dump Daredevil's life secrets into the open.  I find it interesting that the trust and respect Daredevil works so hard to build up in San Francisco vanished that quickly.  I don't find it unbelievable though – I look at the number of times that has happened in real life and realize that is how it would probably happen.  And now, Matt Murdoch gets to make a deal with his own personal devil – it was only a matter of time before Mr. Waid brought in Wilson Fisk.  The other interesting thing I noticed this issue is that the name of the woman Shroud's looking for is Julia Carpenter.  I don't think I've ever noticed her name before now – that's the name of the current Madame Web and a former Spider-Woman.  Could it be the same person?
Justice League #40 (DC)
By Geoff Johns with art by Kevin Maguire, Phil Jimenez, Dan Jurgens, Jerry Ordway, Scott Kolins, Jason Fabok, Jim Lee, and Scott Williams
Now this is the way you kick off an event.  Once more, Mr. Johns shows that he is a master of DC's history and at turning to suit the advantage of his story.  He lays the history of the DC Universe (the third time in three months, I think), but this time he adds an interesting twist to explain why changes were made as the New 52 moved on.  The idea that this universe hasn't settled yet is an interesting one.  Also interesting was the change to the pact between Darkseid and High-Father.  Originally, the two boys were babies, now they seem to be around eight to ten years old.  Also the reference to the multiple children of High-Father caught my attention.  I had thought Scott was the only son of High-Father.  This has made me look forward to the upcoming Darkseid War, especially since i won't have to buy anything else but the Justice League.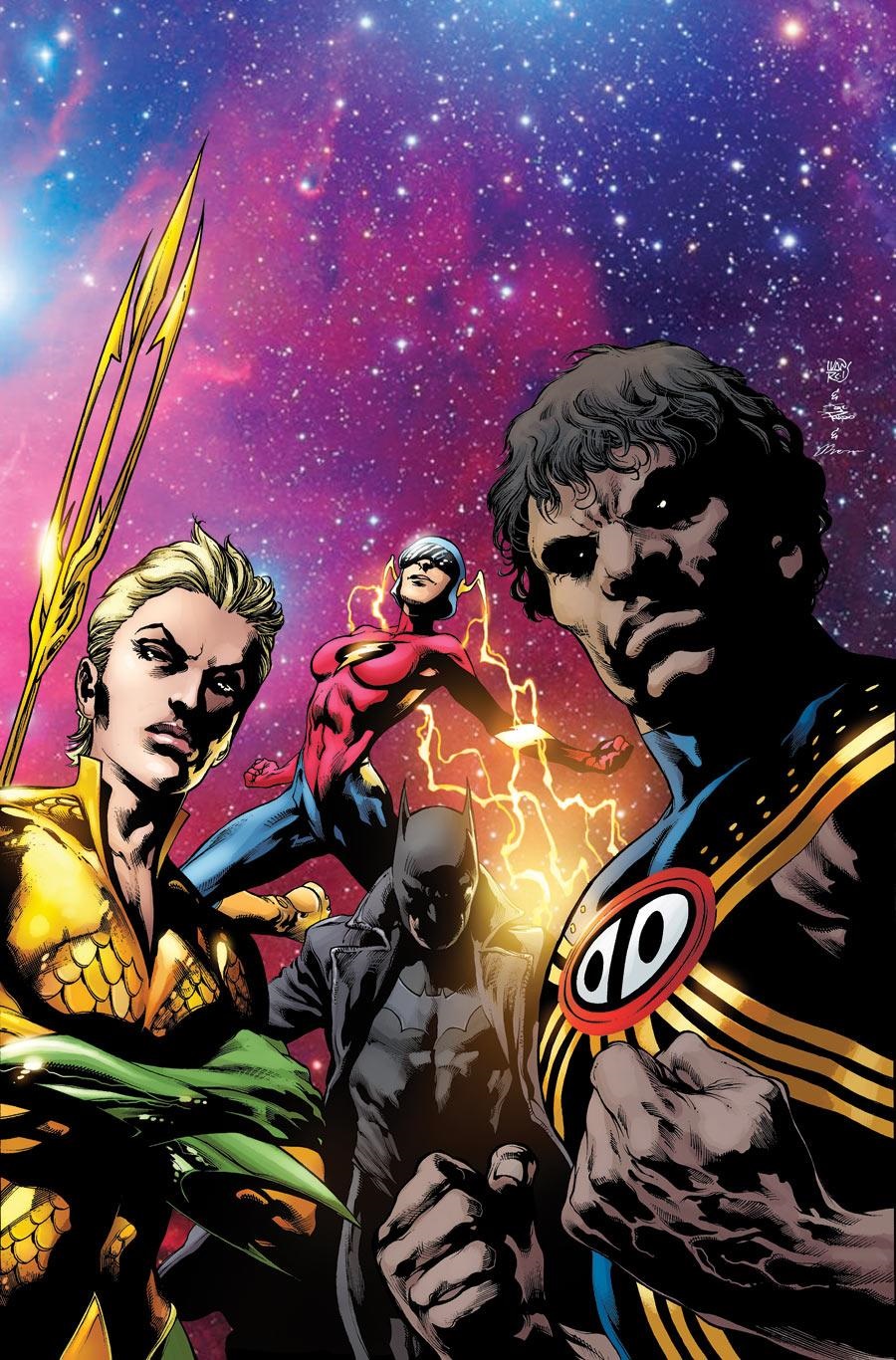 The Multiversity #2 (DC)
By Grant Morrison with art by Ivan Reis
This was a good issue.  It wasn't the conclusion I was expecting and some of the side stories got lost in the ending, but overall this was good end to the series.  There were a lot of callbacks to various themes of Multiversity – heroes and villains and music transcending time and space.   It was also another call to Mr. Morrison's theory that the story is never ending.  There will also be another crisis, another event, another villain.  And so while the Empty Hand was not defeat in this round, he will meet as he promised.  Though this time, he will choose when we see him again.  We also find out that the Empty Hand must likely comes from Earth 33 – our world.  The world that shapes the rest of the Multiversity.  It makes me wonder what Mr. Morrison really thinks about our world that makes him believe that the Gentry would come from here.  Is he really that much in despair about the state of our world?  Though since, arguably, the heroes that fight the Gentry also come from our world, maybe Mr. Morrison holds some hope for us.  Also notably – no heroes from Earth 0 either and no mention of that Earth during the cutaways.  I guess the Multiverse doesn't revolve around them – which is kind of nice to know.
New Avengers #33 (Marvel)
By Jonathan Hickman with art by Mike Deodato
Now that's how you end a series.  Unlike Avengers (we'll get to that in a minute), this series ended with a bang that tore down the multiverse – literally.  We find out the event that lead to destruction of so many universes.  While I don't quite understand what it is Doom hurled at the Beyonders, but it shows the hubris of Doom.  He is better than everything, he is the beginning and the end, so of course he can understand and defeat the Beyonders… except he can't.  He is defeat just as victory is in sight and in doing so robs the multiverse of the one thing they needed – time.  This was great look at the internal working and motivations of Dr. Doom though all of this.  It also shows the role that Molecule Man may play in all of this.  This is a great wrap up to the Mr. Hickman's stage setting and I think it is the stronger of the two endings that came out this week.
Batman '66 #59 (DC); Captain Midnight #22 (Dark Horse); Conan/Red Sonja #4 (Dark Horse); Convergence: Action Comics #1 (DC); Convergence: Blue Beetle #1 (DC); Convergence: Booster Gold #1 (DC); Convergence: Detective Comics #1 (DC); Convergence: Infinity, Inc #2 (DC); Convergence: Justice Society of America #1 (DC); Convergence: Shazam! #1 (DC); Convergence: World's Finest #1 (DC); Convergence #4 (DC); Fantastic Four #645 (Marvel); He-Man: The Eternity War #5 (DC); Inhuman #14 (Marvel); Injustice: Gods Among Us Year Three Annual #1 (DC); Jungle Jim #3 (King); Moon Knight #14 (Marvel); Mortal Kombat X #14 (DC); New Avengers: Ultron Forever #1 (Marvel); Nova #30 (Marvel); Princess Leia #3 (Marvel); S.H.I.E.L.D. #5 (Marvel); Secret Avengers #15 (Marvel); Silk #3 (Marvel); Silver Surfer #11 (Marvel); Spider-Man and the X-Men #6 (Marvel); Superman #40 (DC); Teenage Mutant Ninja Turtles #45 (IDW); X- Men #26 (Marvel)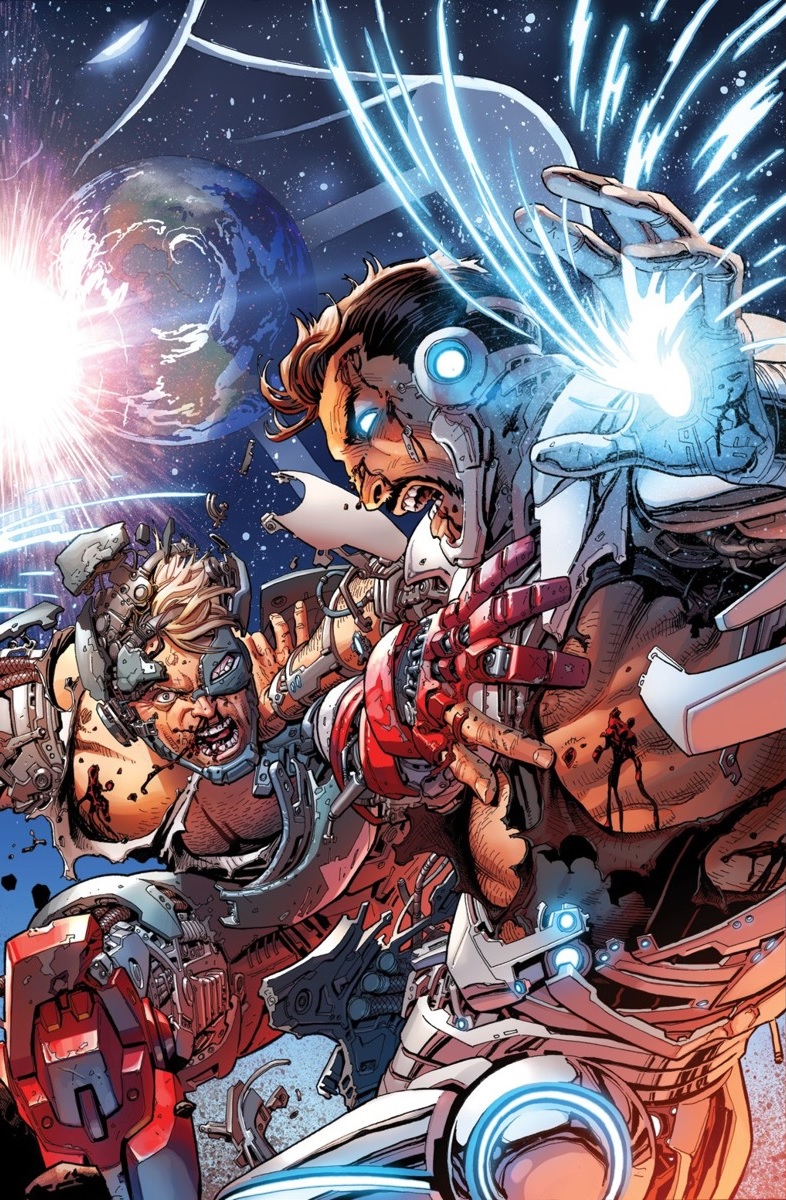 Avengers #44 (Marvel)
By Jonathan Hickman with art by Stefano Caselli and Kev Walker
With this issue, Mr. Hickman's Avengers run comes to end.  And while his New Avengers ending was a great way to kick into Secret Wars, this issue serves as a reminder as to everything that is wrong with the current age at Marvel.  During the last hours of the planet, two of the greatest men in the Marvel universe – two of the best and most popular heroes they have to offer- are brawling in the streets like grade-schoolers.  Again.  And the reasoning this time was no better than it has been any other time.  Steve still comes across like a thug that won't compromise instead the symbol of what America's ideals should be and Tony comes across like an egotistical jackass instead of the symbol of what capitalism and science should be.  While I understand that heroes fighting heroes is a comic book tradition, over the past few years, Marvel has taken it to an unwelcome extreme.  I'm hoping that Secret Wars presents a actual villain to fight.  In the meantime, I can only be disappointed that the only story they seem to be able to tell with Steve and Tony is the one where they come to blows.
Red One #2 (Image)
By Xavier Dorison with art by Terry Dodson
So I was really enjoying this book – the art was cool, the action was great, and the characters seemed fun.  And normally this would fall under a SIDEKICK rating.  It was fun, but there are too many problems with it – the out of time attitude of Red One for example – to make easily recommendable.  Then I got to the end.  And I no longer care.  This is the last issue of "Book One", which will be collected later this year and released.  Red One won't return until summer of 2016 at which point I will have forgotten this book existed at all.  The team behind Red One spends a page justifying their decision.  They cite the European album publishing system in which a book comes out once a year every year.  They talk about the fact that these two books are equal in page count to three DC/Marvel books.  And they tell us to think about Red One like we would think about Game of Thrones, Mad Men, and Sopranos in that they all come out once a year.  The problem is (to address each justification) 1) those European stories are more like DC Comics's Earth One Hardcovers than Red One;  2) I would get a complete story out of those three issues and if I didn't I wouldn't have to wait a year between issues; and 3) Game of Thrones, Mad Men, and Sopranos were all models of to do television right – Red One is a mediocre (but fun) mess and not something everyone would strive to be.  So good luck trying to sell this one, guys.