Welcome to Spandex and Capes 2.0!  I have the artwork I need and I would like to thank the artist that provided these profusely.  She did an amazing job.  Now on to the news and reviews!

September 20, 2015
"Oh, don't you dare look back, just keep your eyes on me.  I said 'You're holding back.'  She said, 'Shut up and dance with me!'  This woman is my destiny.  She said, "Ooh-ooh-hoo!  Shut up and dance with me!'"
– C. Kent, P. Parker, B. Allen, and R. Digby.
Comic Book News: DC is cleaning house for the first time since the DCYou Initiative started, cancelling eight in December.  Well, seven actually – as The Omega Men was saved by fan outcry.  I might go back and give this another try.
Movie News: Somehow, I don't think Gambit is going to be a great as it has now lost its director mere weeks after Channing Tatum nearly walked.  And fall into the "Holy Hell, Really?" category, Greg Berlanti and Warner Bros are developing "The Blue and The Gold", a feature film starring Blue Beetle and Booster Gold.  Yeah, go ahead, read that again.
TV News:  Jeff Loeb has confirmed several casting announcements for Luke Cage, as the Marvel Cinematic Universe grows by leaps and bounds.  And in more Netflix news, Scott Glenn will return to Daredevil in Season 2 as Sticks.
Good News: While not the full credit the man deserves, Bill Finger is getting creative credit in both Gotham and Batman v Superman: Dawn of Justice.  Bill Finger has been screwed out of of his credit for far too long and I'm glad DC has finally found a way around Bob Kane's deal.
Doctor Fate #4 (DC Comics)
By Paul Levitz with art by Sonny Liew
I've always been a big fan of the mystical – I'll be grabbing Dr. Strange when that series starts, I've been reading Constantine's adventures since I was 14, and so on.  So it should come as no surprise that I'm reading Dr. Fate.  What is a surprise is how good the series is.  This issue allows Khalid (Kent) Massour, and by extension the reader, to learn more about his Fate and it's a great and trippy ride.   Changing Nabu from the overbearing tyrant that needed to be overcome back to the wise advisor of Fate, I think is good thing.  And the Sphinx was a great addition as well.  My only concern is we're on issue four and we're it kind of feels like the wheels are starting to spin a bit.  Mr. Levitz needs to bring this first arc to a close and move on.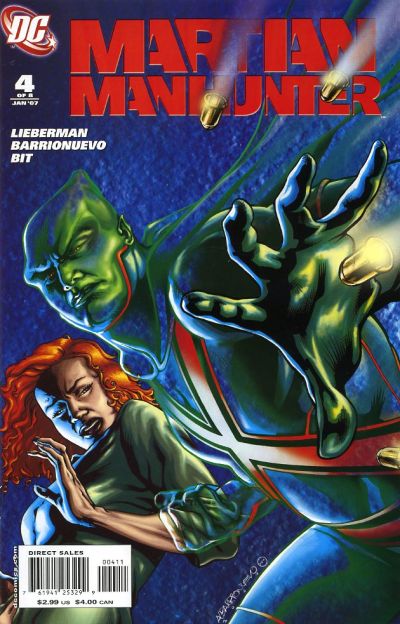 Martian Manhunter #4 (DC Comics)
By Rob Williams with art by Eddy Barrows
This has to be one of the best Manhunter stories in years.  For the first time, J'onn's origin has been completely turned on its head and I'm loving every minute of it.  Splitting himself to save himself, the idea of the Martians still being alive, everything is coming together nicely in this book.  It's also interesting to see what parts of J'onn have survived the split.  Mr. Biscuits is the subconscious or the ID and I'm guessing Pearl is his Ego, and Darryl is his SuperEgo.  And I'm guessing Leo is the part of him that's evil – the weapon the Martians really want.  The only thing I don't care for her is the art – while Mr. Barrows is talented, I have always though his art was a little muddled.  But overall, this series has been excellent.
Bizarro  #4 (DC); Black Canary #4 (DC); Captain America: White #1 (Marvel); Constantine: The Hellblazer #4 (DC); Harley Quinn #20 (DC); Injustice: Gods Among Us Year Four #20 (DC); Green Lantern: Lost Army #4 (DC); Ivar, Timewalker #9 (Valiant); Lando #4 (Marvel); Prez #4 (DC); Robin: Son of Batman #4 (DC); Secret Six #6 (DC); Spider-Island #4 (Marvel); Spider-Verse #5 (Marvel); Star Wars #9 (Marvel); Superman/Wonder Woman #21 (DC)
Age of Apocalypse #4 (Marvel); Armor Wars #5 (Marvel); House of M #3 (Marvel); Infinity Gauntlet #4 (Marvel); Invincible #123 (Image); Secret Wars Journal #5 (Marvel); Wonder Woman #44 (DC)
Secret Identities #7 (Image) – FINAL ISSUE
By Brian Joines with art by Ilias Kyriazis
I really enjoyed this series until this issue.  It feels like Mr. Jones was told he would have eight issues to tell his tale, then the cut one issue off.  Everything seems to be rushed and and incomplete.  Several of the sub-plots never seem to pay off – like Rundown's.  Others wrap up with no real satisfying ending – like Crosswind.  The alien beings are never really given an explanation of any kind.  Everything that seemed on about the series seemed off at the end.
Voltron: From the Ashes #1 (Dynamite)
By Cullen Bunn with art by Blacky Shepherd
What the F*** was this shit?  I mean seriously – between the subpar artwork, the bad story, and the crappy dialogue; this is probably one of the worst issues I've read all year.  Which is a shame because I really like the idea of Voltron.   Even worse, Mr. Bunn took the mystery out of who would be the new Voltron Force by only naming five of the Voltron Team characters.  Also why the hell would no one have moved the Lions?  Was letting them sit there really the best idea?  Are the skeletons still in the cockpits?  Avoid this one folks.