Welcome back.  Sorry for the long delay, but between the holidays and my birthday, I was just a little overwhelmed.  But I'm back and with so many books to review, we're going to skip right to the reviews.  So let's get started at:
December 13th, 2015
"I can make that shot." – C. Burton and O. Queen
Batman #47 (DC Comics)
By Scott Snyder, with art by Greg Capullo, Danny Miki, and Eco Plascencia
This was really good and while served to highlight the differences between Bruce and Jim, it also highlighted their similarities.  The fight with Bloom and Jim was a little underwhelming – I was hoping for more than a couple of panels of Jim verse the suit, but it showed he was quick on his feet and could improvise to get his win.  It also showed that he was willing to die to do the right thing.  It's an interesting thought.  Also interesting was the fact that it was Duke who showed Bruce the "hole" in his life.  The thing he wouldn't look at.  And he saw the shape of things.  Definitely expected more of an argument – more of a fight to hold on the normal life.  But with #50 fast approaching I can imagine why Scott's having him accepting it so quickly.  The true fun will come with the conversation that is going to take place next issue.
Hercules #2 (Marvel Comics)
By Dan Abnett with art by Luke Ross, Emilio Laiso, and Guru-FX
The fun continues in Hercules as shows what he wants to be.  I'm glad that they are acknowledging his past and not just brushing it under the rug.  It will be interesting if we watch a hero fighting not only for the people, but for his own sobriety.  It was also interesting to see Hercules talking to his enemies – I wonder how long he'll be able to keep that up.  It was fun to see that even immortals can get stuck in time – It was a shame she didn't last longer.  Though she might still get away.  It's slim but there's a chance is.  I would also like to know who the landlady is – because obviously she's not just the landlady.  Athena, maybe?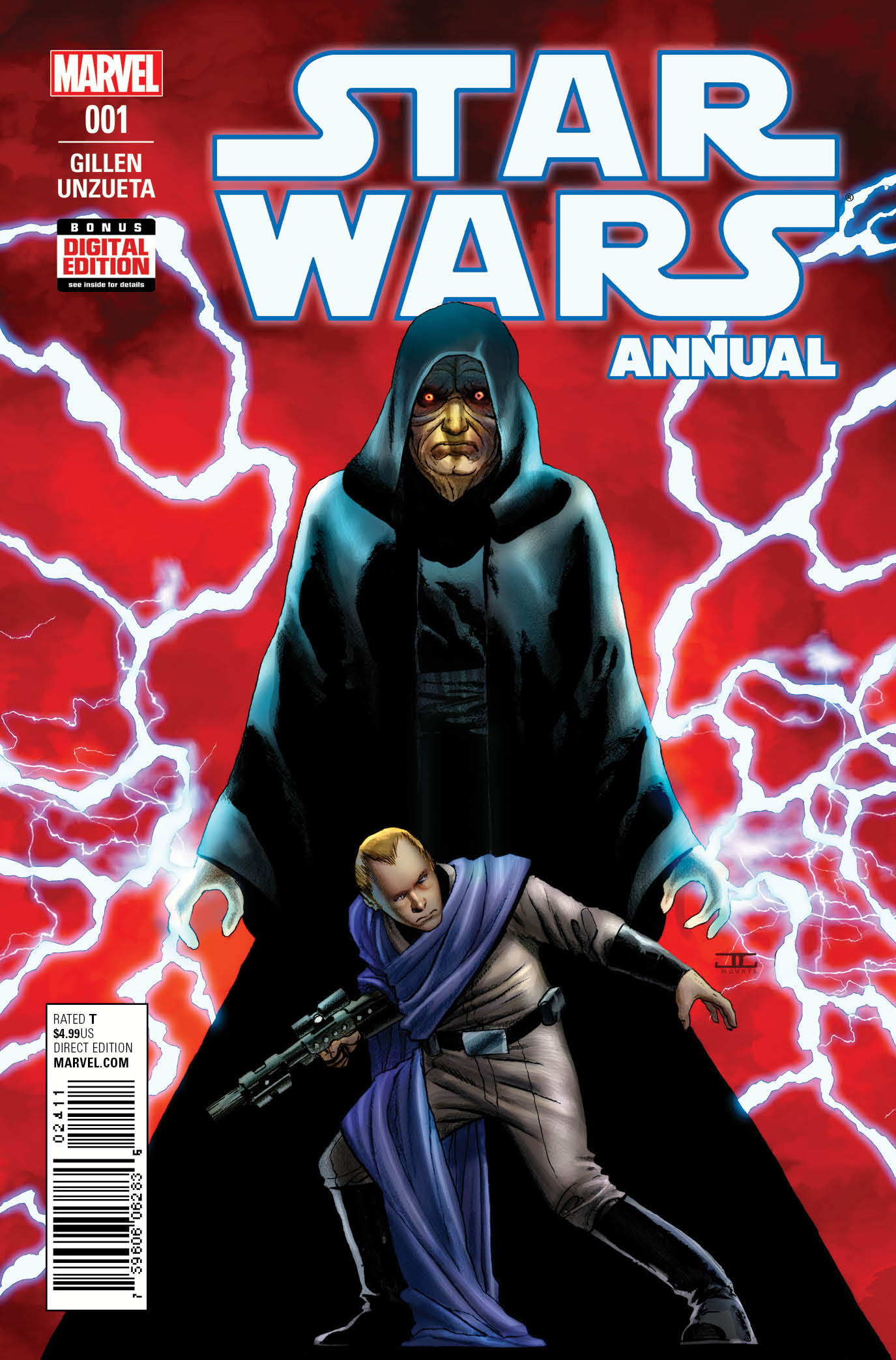 Star Wars Annual #1 (Marvel Comics)
By Kieron Gillen, with art by Angel Unzueta and Paul Mounts
This was amazing.  I never realized how much Star Wars needed a character like Eneb Ray until he was there.  And it didn't take long to establish him as the James Bond of the Universe.  Though James Bond usually wins.  That's the problem with the stories set BEFORE the end of the original trilogy.  You knew there was no way Eneb could win, but the trick to this book was that we cared enough to hope he would.  It was cool to see the Emperor showing how to play the long game at chess – everything was a setup from the word go and brilliantly played.  All in all, a great book.

Action Comics #47 (DC); Amazing Spider-Man #4 (Marvel); Archie #4 (Archie); Art Ops #2 (DC); Assassin's Creed #3 (Titan); Atomic Robo and the Ring of Fire #4 (Tesladyne); Batman/Superman #27 (DC); Batman/Teenage Mutant Ninja Turtles #1 (DC/IDW); Batman & Robin Eternal #8 – #10 (DC); Batman Beyond #7 (DC); Birthright #12 (Image); Black Magick #2 (DC); Chewbacca #4 (Marvel); Constantine: The Hellblazer #7 (DC); Darth Vader #13 (Marvel); Detective Comics #47 (DC); Doctor Strange #3 (Marvel); Earth 2: Society #7 (DC); The Flash #46 (DC); Gotham by Midnight #11 (DC); Grayson #14 – #15 (DC); Green Lantern/Star Trek: The Spectrum War #6 (DC/IDW); Groot #6 (Marvel); Harley's Little Black Book #1 (DC); He-Man: The Eternity War #12 (DC); Invincible Iron Man #4 (Marvel); Ivar, Timewalker #11 (Valiant); Jacked #1 (DC); Justice League 3001 #6 (DC); Justice League of America #5 (DC); Midnighter #7 (DC); New Romancer #1 (DC); Plutona #3 (Image); Prez #6 (DC); Robin #6 (DC); Robin War #1 (DC); S.H.I.E.L.D. #12 (Marvel); Sheriff of Babylon #1 (DC); Silver Surfer #15 (Marvel); Sinestro #17 (DC); Slash & Burn #2 (DC); Spider-Man 2099 #4 (Marvel); Spidey #1 (Marvel); Star Wars #13 (Marvel); Starfire #7 (DC); Superman #47 (DC); Superman: Lois and Clark #2 (DC); Superman/Wonder Woman #23 (DC); Symmetry #1 (Image); Teenage Mutant Ninja Turtles #52 (IDW); The Twilight Children #3 (DC); Totally Awesome Hulk #1 (Marvel); Ultimates #2 (Marvel); Unfollow #2 (DC); Vision #2 (Marvel); We Are Robin #6 (DC); Wolverine #2 (Marvel)
All-New Inhumans #1 (Marvel); All-New X-Men #1 (Marvel); Aquaman #46 (DC); Cyborg #5 (DC); The Dark Knight III: The Master Race #1 (DC Comics); Green Lantern #47 (DC); Gwenpool Holiday Special #1 (Marvel); Hail Hydra #4 (Marvel); Justice League: Darkseid War: Lex Luthor #1 (DC); Moon Girl and Devil Dinosaur #1 (Marvel); Nova #2 (Marvel)
Daredevil #1 (Marvel Comics)
By Charles Soule with art by Ron Garney and Matt Milla
How do you follow up an award winning, game changing series about a character?  With… well, whatever the hell this is.  It's not bad – it's just disappointing.  I wanted to see the aftermath of his battle with the Kingpin.  I wanted to see that story – but instead we get the Brand New Day for Daredevil.  Matt's identity is a secret again (except for Foggy) and he's done something bad again that Foggy doesn't like.  And it looks like Foggy got cure of cancer too.  It seems like once again, Marvel is putting the cat back in the bag instead of carrying on with the last status quo and telling interesting stories. I'll stick with it – but I'm really disappointed.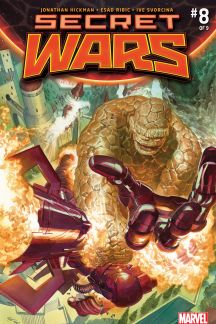 Secret Wars #8 (Marvel Comics)
By Jonathan Hickman with art by Esab Ribic and Ive Svorcina
This was a great book.  The action was fantastic, the art was incredible, and the character moments were excellent.  Doom was exactly what you wanted – and I damn near cheered when Doom went Mortal Combat on Thanos.  So why is it a Henchman?  Because none of it matters.  Once more Marvel is stomping all over the end of its crossover before its actual end.  Everything from this is spoiled except for the fate of four people and even that isn't that suspenseful because we know they aren't dead.  Just missing.  And the next book has been delayed until NEXT YEAR.  Just it time to have Civil War take it's place.  So while this is a fantastic story, Marvel's killed it's suspense and importance.
All-New All-Different Avengers (Marvel Comics)
Black Knight (Marvel Comics)
Carnage (Marvel Comics)
Contest of Champions (Marvel Comics)
Guardians of Infinity (Marvel Comics)
Howling Commandos of S.H.I.E.L.D. (Marvel Comics)
The New Suicide Squad (Marvel Comics)
Red Wolf (Marvel Comics)
Scarlet Witch (Marvel Comics)
Silk (Marvel Comics)
Switch (Top Cow Comics)
Teen Titans (DC Comics)
Telos (DC Comics)
Venom: Space Knight (Marvel)
Wonder Woman (DC Comics)
Normally I would talk a bit about each of the books I was cutting – but honestly, there's just so many over the last few weeks.  In some cases, like Switch or Venom, I just don't think I'm the audience.  In other cases, like Wonder Woman or Teen Titans, the books have completely lost their direction, but I may come back when the creative teams change.  And then there are titles like Avengers and Teloes are just… bad and I probably won't come back to until there's a complete overhaul.  But in the meantime, don't expect to see me reading these titles any time in the near future.
All Star Section Eight (DC Comics)
Garth Ennis, John McCrea, John Kalisz
Groot (Marvel Comics)
Jeff Loveness, Brian Kesinger, Vero Gandini
Hail Hydra (Marvel Comics)
Rick Remender, Roland Boschi, Ed Tadeo, Chris Chuckry
S.H.I.E.L.D. (Marvel Comics)
Mark Waid, Lee Ferguson, Paul Mounts, Jack Kirby, Jim Steranko, Howard Chaykin, Edgar Delgado, Mike Choi, Evan Shaner, Matthew Wilson, Alan Davis, Mark Farmer, Humberto Ramos, Victor Olazaba, Guru-FX, Greg Smallwood, Joe Bennett, Alejandro Sicat, Rachelle Rosenberg, Chris Sprouse, Karl Story, Dono Sanchez Almara, Carlos Pacheco, Jason Paz, Paco Medina, Juan Vlasco, David Curiel, Paul Renaud, Romulo Fajardo
Silver Surfer (Marvel Comics)
Dan Slott, Michael Allred, Laura Allred
Star Trek/Green Lantern: The Spectrum War (DC Comics/IDW Comics)
Mike Johnson, Angel Hernandez, Alejandro Sanchez
Well, that's it for me, folks.  Enjoy your week and I'll see you time.