We're back and we're late – which seems to be my norm.  We've got a lot to get to, so we're going to skip the new and go right to the reviews, here at…
May 1st, 2016
"Is this the best you got?" – T. Grant
Batman/Superman #31 (DC)
By Peter J. Tomasi with art by Doug Mahnke, Jamie Mendoza, and Wil Quintana
Man, where has this guy been?  One of my biggest complaints with the New 52 is that Superman never really felt totally like Superman.  They made him seem more like Batman at points and he never really had the conviction or nobility that I've come to associate with the character.  But since the beginning of Mr. Tomasi's run, I've gotten that Superman.  And Mr. Tomasi's Batman voice is equally strong portraying the disdain he has for being interrupted, before immediately becoming concerned for the life of his friend.  The villains are kind of weak, but that's only because they appear on the last few pages.  The other thing I'm not sure about is why Superman is so set on the fact that he's going to die.  It would be nice to have more information about the disease.
Batman #51
By Scott Snyder with art by Greg Capullo
"Gotham is…" is the swan song on Batman for the team of Mr. Snyder and Mr. Capullo.  At least for the moment.  But even if they never grace us again with the storytelling and artwork that has made Batman the hit of the New 52, they have left us with a legacy that will define Batman for this decade.  And this issue is a fitting end tale for the duo.  While the issue is mainly a showcase of scenes and a reminder of what Batman means to Gotham, it us a quiet issue and well done.  Though I kind of wish they dealt more with the fallout from Batman's time away, but I guess that will be left for Rebirth.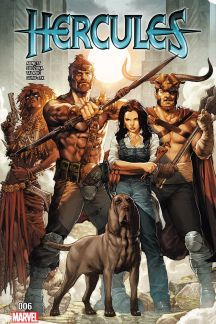 Hercules #6 (Marvel)
By Dan Abnett with art by Goran Sudzuka and Dalibor Talajic
Man, if you're not reading Hercules you are missing out.  This is hands down one of the top three Marvel books on the shelves right now.  This issue deals with the after party and specially Hercules's tendency to party a little too hard.  It was interesting to see Hercules point of view for his drinking and even better to see him admit that he was an alcoholic.  Iron Man's attack was interesting way to address where Hercules had been for the last couple of years, having more or less disappeared from the universe since before Secret Wars.  And I hope that Hercules doesn't take that drink though.  I really like this Hercules.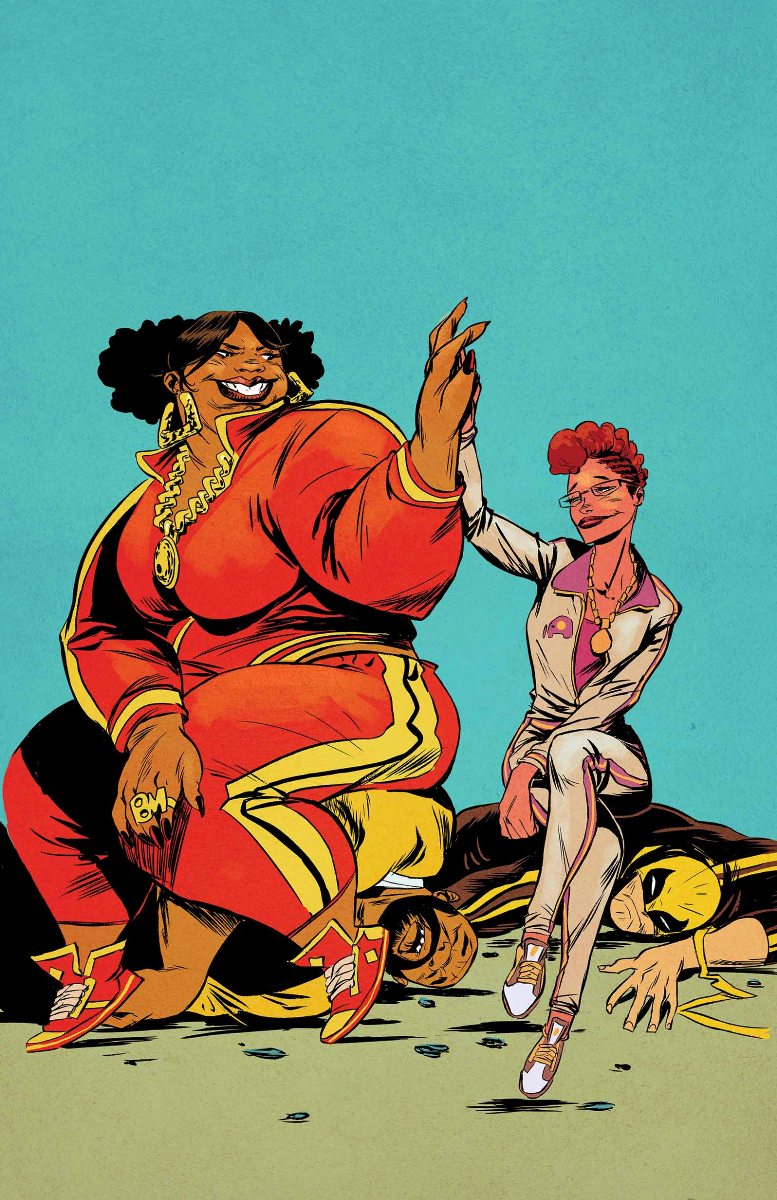 Power Man and Iron Fist #3 (Marvel)
By David Walker with art by Sanford Greene
Welcome to the number two of the best Marvel books on the shelves.  This was a fantastic issue with humor action and insults.  The idea that there is magic that is not worth the Sorcerer Supreme's attention is hysterical and even the idea that there is real street magic is a fantastic idea.  The art doesn't pull me, but it kind of fits the book – though I wish it was a little cleaner.  Also I thought of something while reading this book: how is it possible that Danielle Cage hasn't developed a superpower yet?  I think that will be an upcoming arc if the book makes it that far.  This book makes me look forward to the future of Heroes for Hire.
Action Comics #51 (DC); Amazing Spider-Man #10 & #11 (Marvel); Aquaman #51 (DC); Astro City #34 (DC); Batman/Teenage Mutant Ninja Turtles #5 (DC/IDW); Captain Marvel #4 (Marvel); Clean Room #7 (DC); Constantine: The Hellblazer #11 (DC); Cyborg #10 (DC); Daredevil #6 (Marvel); The Dark and Bloody #3 (DC); Darth Vader #19 (Marvel); Doctor Fate #11 (DC); Doctor Strange #7 (Marvel); Dresden Files: Wild Card #1 (Dynamite); The Flash #50 (DC); Ghostbusters International #4 (IDW); Goldie Vance #1 (Boom!); Grayson #19 (DC); Harley Quinn #27 (DC); Harley Quinn and her Gang of Harleys #1 (DC); Harley's Little Black Book #3 (DC); Haunted Mansion #2 (DC); Jackpot! #1 (Aftershocks); Justice League #49 (DC); Justice League 3001 #11 (DC); Legends of Tomorrow #2 (DC); Martian Manhunter #11 (DC); Mockingbird #2 (Marvel); Ms. Marvel #6 (DC); New Avengers #10 (Marvel); Poison Ivy: Cycle of Life and Death #4 (DC); Red Sonja #4 (Dynamite); Secret Six #13 (DC); Sinestro #22 (DC); Slash & Burn #6 (DC); Spidey #4 (Marvel); Starfire #11 (DC); Suicide Squad's Most Wanted: Deadshot and Katana #4 (DC); Suiciders: Kings of HelL.A. #2 (DC); Superman: Lois and Clark #7 (DC); Superman/Wonder Woman #28 (DC); Totally Awesome Hulk #5 (Marvel); We Are Robin #11 (DC); Wolverine #7 (Marvel); Wrath of the Eternal Warrior #6 (Valiant); X-Men '92 #2 (Marvel)
A-Force #4 (Marvel); All-New X-Men #8 (Marvel); Assault on Pleasant Hill Omega #1 (Marvel); Back to the Future #7 (IDW); Black-Eyed Kids #1 (Aftershock); Doctor Strange: Last Days of Magic #1 (Marvel); Green Lantern: Edge of Oblivion #4 (DC); Huck #6 (Image); Letter 44 #24 (Oni Press); Lucifer #5 (DC); Magekiller #5 (Dark Horse); The Mighty Thor #6 (Marvel); Moon Knight #1 (Marvel); Obi-Wan and Anakin#4 (Marvel); Robin: Son of Batman #11 (DC); Silver Surfer #3 (Marvel); Snowfall #3 (Image); Spider-Woman #6 (Marvel); Spidery #4 (Marvel); Star Wars #5 (Marvel); Strange Fruit #3 (Boom!); SuperZero #5 (Aftershock); Titans Hunt #7 (DC); Ultimates #6 (Marvel); Xena #1 (Dynamite)
C-3PO #1
By James Robinson with art by Tony Harris
Did you care about the reason behind C-3PO's red arm?  Good because neither did LucasFilms, Disney, or Marvel.  If they did they would have put up something better than this poorly drawn issue that squanders the brilliant questions it brings up.  In comics, Marvel has continued to push the idea that droids are almost the slaves of the Star Wars Universe without actually saying that they are of that anything should be done about it.  Here we pretend to explore the ideas that droids remember that they were mind-wiped as we bump off all of the pointless droids in pretty much any way we see fit.  Even if that way makes no sense whatsoever.  So the mystery of C-3PO's arm is about as dull as the droid itself.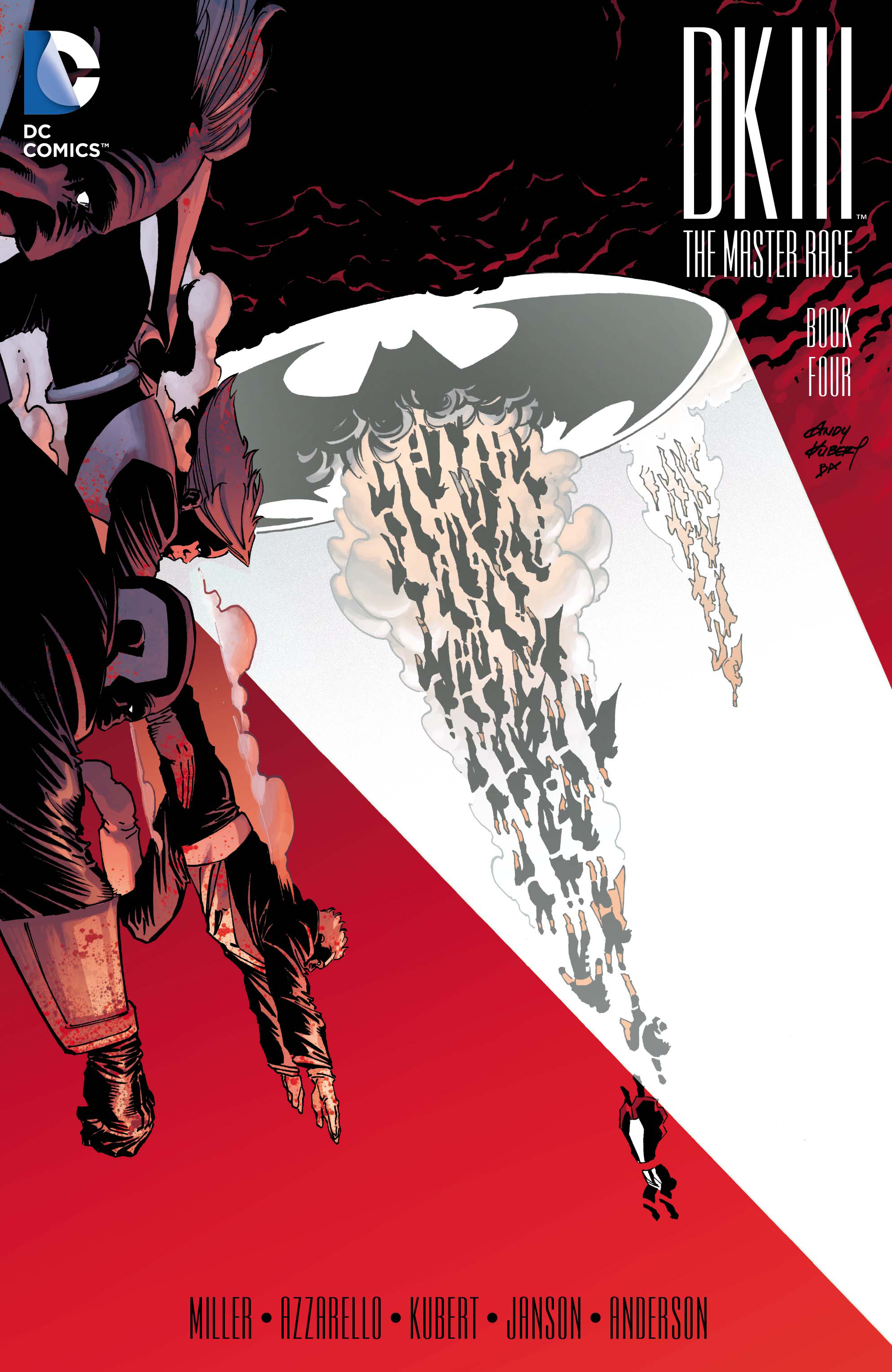 Dark Knight III: The Master Race #4 (DC)
By Frank Miller and Brian Azzarello with art by Andy Kubert, Klaus Janson, and Brad Anderson
You know what I really hate about the Dark Knight Universe?  The utter contempt that Mr. Miller and, by extension, Mr. Azzarello have for the rest of DC Universe.  Particularly, ones with powers.  Superman's big plan was to fly and confront over a hundred Kryptions by himself?  No, the Superman we've seen wouldn't do that.  And the Batman and Wonder Woman we know won't have let him.  Flash wouldn't have been taken out by someone moving a Superman's speed – we've seen him dodge Superman on several occasions.  The entire book is another violence filled fantasy from the head of Mr. Miller and frankly, I'm tired of his world.  So I'm out of this book and of the Miller world completely.