And so we're back… from outer space… well, maybe not space, but you know what I'm talking about.  Big things happening this week from Daredevil to Rebirth, the comic world was rocking over the last two weeks.  So let's get started on this week's
February 27th, 2016
"You know it's all about the bass, 'bout that bass.." – J. Walters
TV News: Netflix dropped part 2 of the Daredevil trailer and announced Finn Jones as Danny Rand.  Legion adds Amber Midthunder in an unknown role while Vanessa Hudgens will be joining the cast of Powerless along with several other geek culture notables.  And the Agent of S.H.I.E.L.D.'s spin-off Most Wanted got an official synopsis.  And Madison McLaughlin is coming to Arrow.
Movie News: Adam McKay will be back working on Ant-Man and Wasp.  Meanwhile, in reshoots Pepper Potts has been added to Civil War and we've gotten a good look at Crossbones as well as a revel of Martin Freeman's character.  In good news, Justice League will begin production in April.  And Forbes gives a very good argument as to why Dawn of Justice will be successful regardless of what some comic book websites want you to think.
Comic News:  Defenders of the Earth are joining forces again in King's Quest.  DC Comics announced their full "Rebirth" line up and well as some details.  Marvel announced Deadpool vs. Gambit, the series that no one demanded.  Marvel is reviving the Timely Comics to offer low cost reprints.  And while it's a long read, it's a worthwhile one.
Solicitations News:
DC Comics
Dynamite Comics
IDW Publishing
Image Comics
Marvel Comics
Valiant Comics

Avengers Standoff: Welcome to Pleasant Hill #1 (Marvel Comics)
By Nick Spencer with art by Mark Bagley, Scott Hanna, and Paul Mounts
You know what excites me the most about this upcoming crossover?  There are actual honest to God villains in this one.  For the longest time, I thought Marvel forgot they could have villains in their crossovers.  This is a classic setup of the overzealous agency setting up something that will most likely go out of control quickly and badly.  There was a little misdirection going to make us think the main character was Bucky, but I can forgive that.  It makes so much better that it was Baron Zemo – someone we haven't' seen for quite some time.  It will be nice to see Avengers in a position where they are definitely the good guys.  My question is – is this what finally removes Maria Hill from the top spot at S.H.I.E.L.D.?  And if so will Nick Fury, Jr be taking over?
Justice League #48 (DC Comics)
By Geoff Johns with art by Jason Fabok and Brad Anderson
Man, when this book fires on all cylinders, it is fantastic.  And with Mr. Fabok giving life to Mr. Johns scripts, this book has never looked better.   And everyone should be taking notes on how to do an epic event – minus the rather weak looks into various characters as Gods – this has been the strongest event we've read for years.  Even with the huge cast of characters, Mr. Johns manages to give everyone a moment to shine… or an pretty good death in the case of Ultraman.  Even the Lantern Corps gets their hits in.  And there are some things that are thrown away that if you don't pay attention to you'll miss.  Like Jessica mentioning there was someone else in the Power Ring.  I just hope we get to see everything come to fruition before the end.
The Mighty Thor #4 (Marvel Comics)
By Jason Aaron with art by Russell Dauterman and Matthew Wilson
Funny enough, I didn't quite care about the first few pages of this book.  But when we got the Asgard civil war, gods be damned it got good.  You can feel the energy just crackle off the page as Thor and Odin go at it.  And Freya does her best to play the better angel on Odin's shoulder as the Serpent whispers in his other ear.  The art is great too – though I think the artist uses way too much white space.  For the most part though, this has been one of the better Thor issues since the relaunch.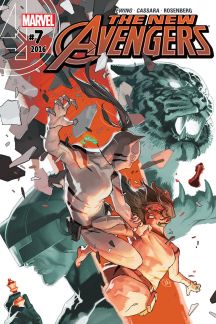 New Avengers #7 (Marvel Comics)
By Al Ewing with art by J. Cassara and Rachelle Rosenberg
First let me start off by saying, can we keep J. Cassara as the full time artist?  This was the best the art has been since the beginning of the series.  I could follow everything, I could tell who everyone was, and they all looked like human beings.  It was fantastic.  The story too was good – though I think that it would have been better served if we had been reminded of White Tiger's situation with the Tiger God a few more times.  I also like that the evil Mr. Fantastic has put together the New Revengers and they aren't just popular opposites of the New Avengers.  Though in some cases I'm not sure who they are supposed to be.  But once New Avengers proves why it is the best Avengers book out there right now.

All-New X-Men #5 (Marvel); Amazing Spider-Man #1.3 (Marvel); Amazing Spider-Man #8 (Marvel); Aquaman #49 (DC); Archie #3 (Archie); Astro City #32 (DC); Batman & Robin Eternal #20 & #21 (DC); Birthright #14 (Image); The Black Hood #9 (Archie); Black Magick #5 (Image); Clean Room #5 (DC); Cyborg #8 (DC); Daredevil #4 (Marvel); Doctor Fate #9 (DC); The Flash #29 (DC); Ghostbusters International #2 (IDW); Grayson #17 (DC); Harley Quinn #25 (DC); Hercules #4 (Marvel); Huck #4 (Image); Jughead #4 (Archie); Justice League 3001 #9 (DC); Lucifer #3 (DC); Martian Manhunter #9 (DC); Plutona #4 (Image); Poison Ivy: Cycle of Life and Death #2 (DC); Power Man and Iron Fist #1 (Marvel); Red Sonja #2 (Dynamite); Red Thorn #4 (DC); Secret Six #11 (DC); Sinestro #20 (DC); Spider-Man 2099 #7 (Marvel); Star Wars #16 (Marvel); Superman: Lois and Clark #5 (DC); Superman/Wonder Woman #26 (DC); Teenage Mutant Ninja Turtles #55 (IDW); Wrath of the Eternal Warrior #4 (Valiant)
Art Ops #5 (DC); The Coming of the Supermen #1 (DC); Dark Knight III: The Master Race #3 (DC); Drax #4 (Marvel); Kanan #11 (Marvel); Robin: Son of Batman #9 (DC); Silver Surfer #2 (Marvel); Snowfall #1 (Image); Spider-Woman #4 (Marvel); Suicide Squad's Most Wanted: Deadshot & Katana #2 (DC); Superman #49 (DC); Titans Hunt #5 (DC); We are Robin #9 (DC); Wynonna Earp #1 (IDW)
He-Man: The Eternity War #15 (DC Comics)
By Dan Abnett with art by Pop Mhan
This was kind of a disappointing end to the Eternity War series.  Though to be honest, this series had started to wander into the tall grass for a while now.  The ending of the series seemed to simply try and reset the world with slight variations.  The biggest disappointment with this is there won't be a series to explore these ideas.  This is literality the end of He-Man – at least for the foreseeable future.  So why set all of this if there's nothing to make of it?  I enjoyed the He-Man series, but I think by the time we got to this point the series had lost it's way.  So it was a disappointing end to a mostly enjoyable series.
He-Man: The Eternity War (DC Comics)
Dan Abnett, Tom Derenick, Pop Mhan, Mark Roberts, Edgar Salazar, Jason Gorder
Well, that's it from me.  See you all in two weeks!