I'm back once more – sorry about the delay but I had a death in the family that consumed a majority of time over the last few weeks.  Lots of stuff happened while I was gone, but I think I have managed to cover it all.  So let's get to the good stuff here at:
March 20th, 2016
"Man, I thought I was fast." – W. West
TV News: Katie Aselton is joining FX's Legion.  Big Hero 6 will continue their adventures in animated form.  Agents of S.H.I.E.L.D. is getting renewed, but Agent Carter looks like it might be in trouble.  A very different Crimson Fox was spotted on the set of Powerless.  Two more DC characters will be appearing on Supergirl this season. The Powerpuff Girls has revealed their premiere date.  The Tick returns with a new series on Netflix.  In a move that surprises no one, CW has renewed all of DC's shows.  Luke Cage has it's debut date revealed as does Preacher.
Movie News: JGL leaves Sandman – dammit.  Spider-Man adds Zendaya to it's cast.  J.K. Simmons is joining the cast of Justice League as Commissioner Gordon.  You probably already saw it, but the second Civil War trailer dropped.  Amber Heard has confirmed she will be playing Mera in Justice League and Aquaman.
Comic News:  Given the current political situation, I don't think I'd have trouble when I'm asked to Vote Loki this season.  Looks like DC Super Hero Girls is doing well as the it's OGN is getting a sequel.  Han Solo is the next solo series from Marvel.  The X-Men will be involved in Civil War II – kinda, sorta.  The Lumberjanes and Gotham Academy will crossover this summer.  The Justice League has been DC's biggest offender when it comes to "on time" schedule DC promised when the New 52 began and it happens again as the ending of the League may crossover Rebirth.  Matt Wagner is returning to the Shadow.  Marvel has revealed which heroes will be punching which heroes in Civil War II.
Solicitation News:
Dark Horse June 2016
Avengers: Standoff: Assault on Pleasant Hill Alpha #1 (Marvel)
By Nick Spencer with art by Jesus Saiz
There was so much good going on here – first off, Steve Rogers came off less of a thug as he has in previous crossovers.  Here he's willing to listen to both Bucky and Maria Hill without just punching them – old age must have soften the old man.  But either way it leads to a lot of good conversation and a conflict of ideals and ideas.  Great stuff.  And then the VILLAINS come in.  That's right, folks.  Marvel remembered that in crossovers, heroes can actually fight a villain instead of each other.  And it looks like it's going to be a battle royale – so dig in folks – this is the most fun I've had since World War Hulk.
Batman/Superman #30 (DC)
By Tom Taylor with art by Robson Rocha, Jay Leisten, and Blond
So what could have been a mediocre story rises high under Tom Taylor's deft hands.  He knows both heroes' strengths and plays to them amazing well.  But the two things he nails the best are their thirst for justice and their compassion to those that need them.  The final few pages of this comic were touching, even though the character was ill defined.  The art was also very impressive in this book as Superman and Batman looked very heroic throughout.  All in all, this proves that Mr. Taylor should be given a chance at either of characters in their own book or at least switched over to Trinity when Rebirth comes.
Action Comics #50 (DC); The Adventures of Archer & Armstrong #1 (Valiant); A-Force #3 (Marvel); All-New Wolverine #6 (Marvel); Amazing Spider-Man #9 (Marvel); Astro City #33 (DC); Batman/Teenage Mutant Ninja Turtles #4 (DC/IDW); Batman & Robin Eternal #22, #23, and #24 (DC); Batman Beyond #10 (DC); Constantine: The Hellblazer #10 (DC); The Dark and Bloody #2 (DC); Darth Vader #17 (Marvel); Dejah Thoris #2 (Dynamite); Detective Comics #50 (DC); The Discipline #01 (Image); Doctor Fate #10 (DC); DragonAge: Magekiller #4 (Dark Horse); Fatih #2 (Valiant); Green Lantern: Edge of Oblivion #3 (DC); Huck #5 (Image); The Infinity Entity #1 and #2 (Marvel); Invincible Iron Man #7 (Marvel); Kanan #12 (Marvel); Legends of Tomorrow #1 (DC); Lucifer #4 (DC); Martian Manhunter #10 (DC); Mighty Morphin' Power Rangers #1 (Boom!); Ms. Marvel #5 (Marvel); New Avengers #7 (Marvel); Poison Ivy: Cycle of Life and Death #3 (DC); Power Man & Iron Fist #2 (Marvel); Red Sonja #3 (Dynamite); Robin #10 (DC); Slash & Burn #5 (DC); Spider-Man #2 (Marvel); Spider-Man 2099 #8 (Marvel); Spider-Woman #5 (Marvel); Starfire #10 (DC); Superman #50 (DC); Uncanny X-Men #4 (Marvel); Unfollow #5 (DC); Vision #5 (Marvel); Wynonna Earp #2 (IDW)
All-New X-Men #6 (Marvel); Black Widow #1 (Marvel); Captain Marvel #3 (Marvel); The Coming of the Supermen #2 (DC); Doctor Strange #6 (Marvel); The Haunted Mansion #01 (Marvel); International Iron Man #1 (Marvel); Midnighter #10 (DC); The Mighty Thor #5 (Marvel); Nova #5 (Marvel); Sinestro #21 (DC); Superman/Wonder Woman #27 (DC); Swamp Thing #3 (DC); Symmetry #4 (Image): Titans Hunt #6 (DC); Transformers Deviations #1 (IDW); Vampirella #1 (Dynamite); Wrath of the Eternal Warrior #5 (Valiant)
Green Lantern #50 (DC)
By Robert Venditti with art by Billy Tan and Vicente Cifuentes
The idea that the Parallax version of Hal Jordan was a puppet of a Spectrum Entity.  He wasn't.  Originally as written, he was desperate, pushed into a corner, and eventually broke.  It wasn't until after Geoff Johns got his hands on Lantern that he became infected.  I would have rather seen the desperate Parallax here (since he's from a different universe), than the possessed one.  It would have made for a more interesting story.  Having Hal face off against a broken version of himself, especially if he was assuming it was possession, would have been a fascinating take on this.  But instead, we get the power hungry story that we get every time.  And since the Gauntlet hasn't really been explained, the ending is more of a WTF moment than a WOW moment.  The other thing is Parallax in Tellos seems to know everything that the Hal Jordan here is telling him.  Really, I'm just disappointed with the whole thing.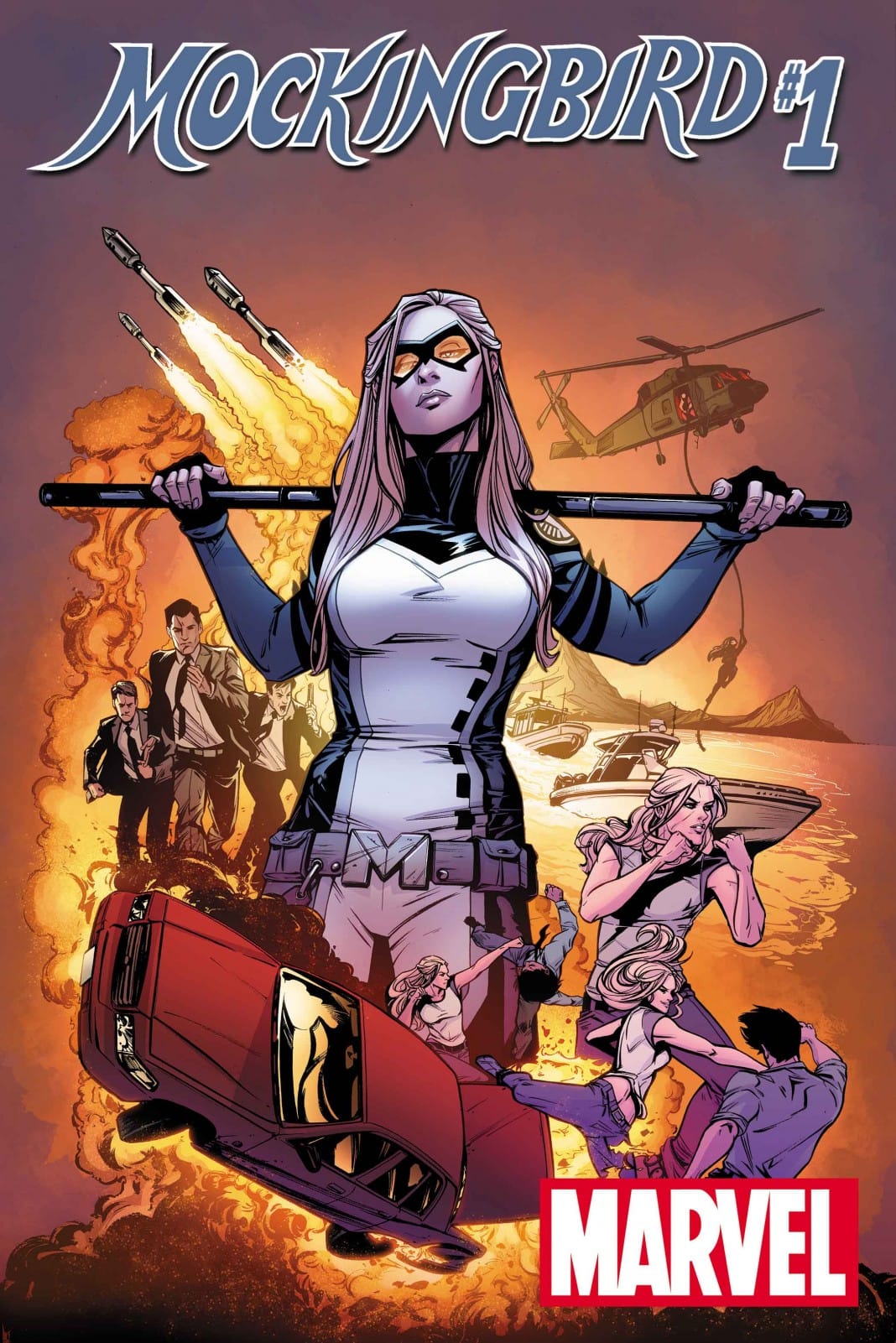 Mockingbird #1 (Marvel)
By Chelsea Cain with art by Kate Niemczyk
So I read an interview with Ms. Cain that said this book would make sense after I read issues two through five.  You know what?  I'm sorry but the book should make sense the first time you read it and then become clear when you look back on it.  Having it be a confusing mess (albeit with good artwork) does nothing to make me want to stay on to read issues two through five.  And that what this was – a mess of ideas that probably won't really make sense for five months.  I'm not sure if I want to stick around for that.
Well, that's it for me.  See you next, then we'll be back on a bi-weekly schedule.  Until then, keep reading!