Welcome once more to my little column.  For those of you that are wondering, So I've seen it. And here are my thoughts (no spoilers):
1) To start, I enjoyed it. It wasn't the greatest movie ever made, it wasn't even the best superhero movie I've seen. But I enjoyed it and encourage you to see it in theater.
2) Go in with Comic Book/Video Game Logic in mind – if you go in with that at the beginning you'll save yourself a headache about 40 minutes in. How did that guy survive? Comics, everyone!
3) Ben Affleck was probably one of the best parts of the movie.
4) Henry Cavill continues to do well as Superman – he's not the greatest, but he's doing well with what he has.
5) I am now very excited to see Gal Gadot as Wonder Woman in her own movie.
6) When they cast Jesse Eisenberg as Lex Luthor, my opinion was "What the hell?". This did not change my opinion.
7) Did not see that coming. Though I really should have. Bad me for not seeing that
and finally, 8) I have come to conclusion that Warner Brothers and DC Comics needs to keep Zack Synder around for the comic book feel of the action scenes. They need just to bring in someone else to do everything else.
With that out of the way, let's get to this week's news and reviews, here at Spandex and Capes.
March 27, 2016
"Here, put on this parka.  You're going to freeze to death in this cold," – L. Snart
TV News: Supergirl has added Eve Torres as Maxima.  Oded Fehr will be joining Marvel's Most Wanted in what looks like the villain role. Netflix has released trailers for both Voltron and Thunderbirds.
Movie News: The Crow is looking more and more unlikely as it loses another director.  Will Arnett has revealed the first Lego Batman poster.  Hot on the heels of Dawn of Justice, Entertainment released a photo of Wonder Woman and her "family".
Comic News:  IDW has announced that Bebop and Rocksteady will "Destroy Everything" in their own mini-series.  Marvel has cancelled Angela: Queen of Hel and Howling Commandos of S.H.I.E.L.D. which should come as no surprise to anyone who read the books.  Marvel is teasing the "Death of X", which means the X-Men might be trouble again.  DC is launching a Talent Development workshop to find new writers and artists.  DC Comics made their ReBirth Creative Team announcement this weekend as well as a bunch of exclusive deals with some artists and writers..
Solicitation News:
Dynamite Comics
Image Comics
Marvel Comics
Valiant Comics
Batman #50 (DC)
By Scott Snyder with art by Greg Capullo, Yanick Paquette, Danny Miki, FCO Plascencia, Nathan Fairbairn
And so, the reign of Jim Gordon, Batman comes to end.  And man, did it end with a bang.  We get the true origin of Mister Bloom and the best Batman in… well, ever as Alfred said.  It was a great ride and I'm sorry to see Mr. Snyder and Mr. Capullo go with issue #51.  My only question was why did people start pulling out their seeds?  Was it because Batman appeared?  That wasn't quite as clear as it could have been.  The other thing I liked was that Gordon apologized to Batman – he knew that Batman had been at peace before this, but because of the danger the city was in, he couldn't stay there.  And while Batman can't remember what he had before he came back, he knew Jim was right.  It was a fitting ending.  All that's left now is get back Wayne Enterprises.  I wonder if they'll do that before Rebirth hits.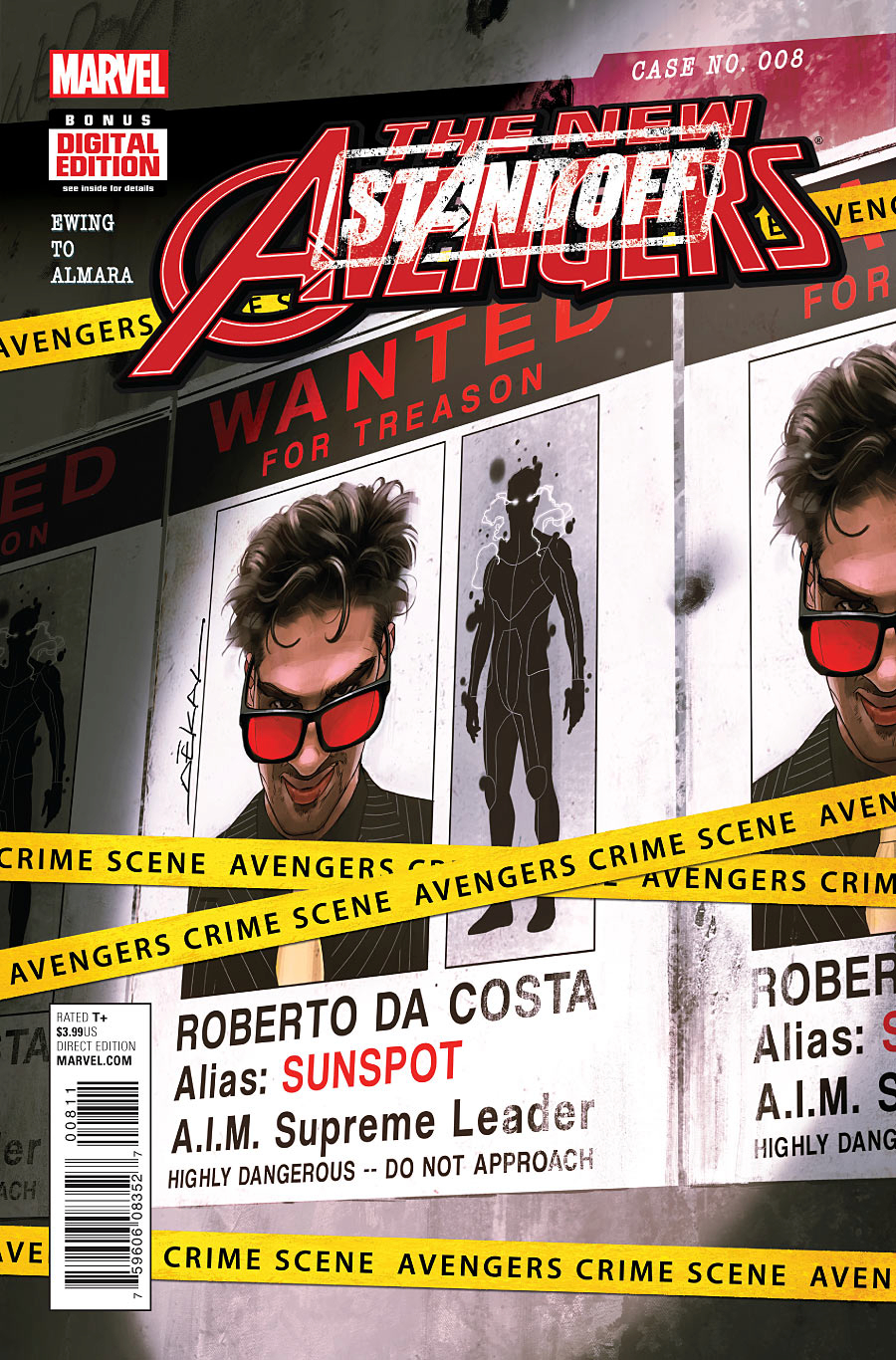 New Avengers #8 (Marvel)
By Al Ewing with art by Marcus To
Can we keep this artist?  Seriously, once more I can tell who everyone is and what they are actually doing without any problems.  So congrats to Mr. To on that point.  The story is also pretty good The New Avengers take A.I.M. at S.H.I.E.L.D. (Sorry, it was too good to pass up) and break Rick Jones out of holding.  It's interesting that Songbird is an Agent, I wonder how long that's been going on?  And what her mission is?  I also like that Roberto kick himself out of the New Avengers so that the Avengers name wouldn't get dragged through the muck.  It was a nice touch and a great character moment.  It's good to see going into this crossover didn't dampen the awesome of this book.
The Ultimates #5 (Marvel)
By Al Ewing with art by Kenneth Rocafort and Dan Brown
So I think they need to move Al Ewing to more Avengers books – he's writing the only two I really like.  This month's Ultimate's takes us outside the universe to get the definition of Marvel's sliding timeline.  Which was hysterical by the way.  Now the characters of the Marvel Universe know what the readers have know for years – time has little meaning to the Marvel Universe.  I think it will be interesting if the Blue Marvel finds out he didn't exist until a few years ago.  I'm very interested to see where this is going with Eternity being chained and Thanos back in the universe.  And if the Lifebringer is going to be a new part of this team, I think things are going to get very interesting, very quickly.
Batman & Robin Eternal #25 (DC); Bill & Ted Go to Hell (IDW); Birthright #15 (Image); Cyborg #9 (DC); Delete #1 (Devil's Due); Grayson #18 (DC); Harley Quinn #18 (DC); Klaus #4 (Boom!); Obi-Wan and Anakin #3 (Marvel); Secret Six #12 (DC); Star Wars #17 (Marvel); Suicide Squad's Most Wanted: Deadshot and Katana #3 (DC); Superman: Lois and Clark #6 (DC); SuperZero #4 (Aftershock); Teenage Mutant Ninja Turtles #56 (IDW); Uncanny X-Men #5 (Marvel); We Are Robin #10 (DC)
Art Ops #6 (DC); Hyperion #1 (Marvel); The Infinity Entity #3 (Marvel); Justice League 3001 #10 (DC); Snowfall #2 (Image); The Totally Awesome Hulk #4 (Marvel)
Well, that's it from me – see you in two weeks with more new and reviews.