Happy Memorial Day weekend, loyal readers.  Hope you have some great plans and have a nice long weekend.  So let's not keep you too long, so let's get right to it here at:

May 29th, 2016
"Hail Hydra." – The newest fad at Marvel.
TV News: Agents of S.H.I.E.L.D. is moving to 10 pm so it can get edger… and easier to cancel.  In the meantime, Robert Kirkman is doing a documentary on comics for AMC – that should be an interesting take.  And speaking of AMC, they hac cast a new member of Preacher.  Teen Titans GO! is going to be crossing with the Powerpuff Girls.
Movie News: Thor has announced its new cast members.  
Comic News:  Dynamite is relaunching the original Battlestar Galactica as a comic.  And with Rebirth, DC has unveiled it's new retro logo.  DC also expects to make around a billion dollars on it's Super Hero Girl line.  Comixology has launched Unlimited and not everyone is happy.  Marvel is bringing back their NOW! line based around the fallout of Civil War.
Comic Con News: Just so you know, if you want to go to New York Comic Con, you have to verify that you're a fan.  And it will also be Stan Lee's last comic con appearance.  
Solicitation News:
Boom! Studios
DC Comics
Image Comics
Marvel Comics
Valiant Entertainment
Rebirth #1 (DC Comics)
By Geoff Johns with art by Gary Frank, Ethan Van Sciver, Brad Anderson, Jason Wright, Ivan Reis, Phil Jimenez, Matt Santorelli, Frank, Gabe Eltaeb, Hi-Fi
Wow.  This was amazing and everything I wanted n the book.  I had a majority of the issue spoiled for me (by choice) and it was still fantastic.  If you have managed to stay spoiler free until now congratulations.  I won't change that for you.  I will say that I cried, I laughed, and I was overcome with joy.  In my life, I have said both Marvel, DC, and comics in general take a darker tone and while there are exceptions to the darkness, I believe it should be the other way around.  I'm hoping that this is the first step to lead comics to inspire people again.
Civil War #0 (Marvel Comics)
By Brian Michael Bendis with art by Olivier Coipel and Justin Ponsor
I have a confession to make – I HATED the original Civil War with a passion.  I thought the base argument was ridiculous and flawed, the fact that it devolved into a punching match was stupidity itself.  The new Civil War at least has an interesting argument and I like the players that are being set up.  Though I find it a shame She-Hulk won't be a bigger part of what's coming.  The idea of arresting someone before they commit a crime is a grey area of the law.  And it make much more sense for the heroes to argue about that than whether a nuke should be registered with the government.  I'm just sad that it will probably turn into a bunch of people hitting each other again.
All-New Wolverine #8 (Marvel); Amazing Spider-Man #1.5 (Marvel); Aquaman #52 (DC); Assassin's Creed #8 (Titan); Astro City #35 (DC); Cyborg #11 (DC); Darkwing Duck #1 (Disney); Deadpool: Last Days of Magic #1 (Marvel);  Deadshot and Katana #5 (Marvel); Doctor Fate #12 (DC); Doctor Strange #8 (Marvel); Future Quest #1 (DC); Ghostbusters International #5 (IDW); Goldie Vance #2 (Boom!); Grayson #20 (DC); Harley Quinn #28 (DC); Haunted Mansion #3 (Marvel) Justice League #50 (DC Comics); Jughead #6 (Archie); Letter 44 #25 (Oni Press); Martian Manhunter #12 (DC); Mockingbird #3 (Marvel); Ms. Marvel #7 (Marvel); Obi-Wan and Anakin #5 (Marvel); Poison Ivy: Cycle of Life and Death #5 (DC); Power Man and Iron Fist #4 (Marvel Comics); Red Sonja #5 (Dynamite); Robin: Son of Batman #12 (DC); Scooby Apocalypse #1 (DC); Secret Six #14 (DC); Silver Surfer #4 (Marvel); Sinestro #23 (DC); Spider-Woman #7 (Marvel); Star Wars #19 (Marvel); Suiciders: King of HelL.A. #3 (DC); Superman: Lois and Clark #8 (DC); Superman/Wonder Woman #29 (DC); Superman #52 (DC); Titans Hunt #8 (DC); The Totally Awesome Hulk #6 (Marvel); Vision #7 (Marvel); We are Robin #12 (DC); Wrath of the Eternal Warrior #7 (Valiant); Wynonna Earp #4 (IDW) Xena: Warrior Princess #2 (Dynamite)
Back to the Future #8 (IDW); Captain Marvel #5 (Marvel); Daredevil #7 (Marvel); The Flash #52 (DC); Justice League 3001 #12 (DC); Lucifer #6 (DC); The Mighty Thor #7 (Marvel); Spider-Man #4 (Marvel); Spidey #4 (Marvel)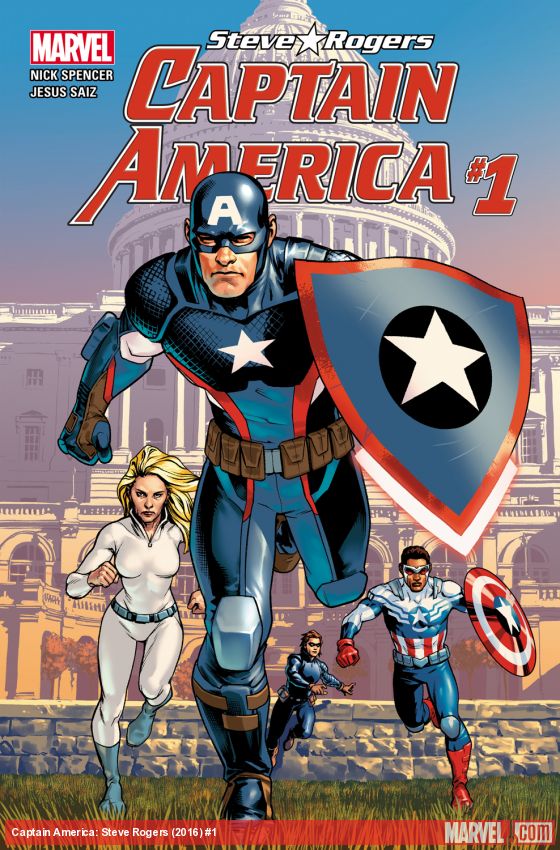 Captain America: Steve Rogers #1 (Marvel)
By Nick Spencer with art by Jesus Saiz
I was really looking forward to this book.  With years of stories about different Captains and Steve aging, having Steve Rogers back as Captain America was going to fun.  I was looking forward to having some good old fashioned stories of Captain America beating up Hydra.  And for most of the book, that's what I got.  Then there was the last page.  And I'm not upset that Captain America said "Hail Hydra" – that's not it at all.  It's a cheap shocking twist that has already been deduced by the readers and will be erased by the end of the year and have no further consequence to Captain America.  I would rather have regular adventure stories and have Cap be Cap for a while instead of another stupid pointless, "earth-shattering" story line.
Aquaman (DC)
Batgirl (DC)
The Flash (DC)
Justice League 3001 (DC)
Superman: Lois and Clark (DC)
Martian Manhunter (DC)
Obi-Wan and Anakin (Marvel)
The Omega Men (DC)
Red Wolf (Marvel)
Starbrand and Nightmask (Marvel)
Superman (DC)
Superman/Wonder Woman (DC)
Titans Hunt (DC)
We Are… Robin! (DC)
Wonder Woman (DC)
Thank you for reading – next time, if everything goes to plan, I will have my new format up and ready to go.   Until then, have a great weekend.