Sorry for the skip week, loyal readers.  But now I'm back and ready to dive in once more.  We're not going to the news this week, we're just going to jump right into the reviews, here at:
October 2nd, 2016
Book(s) of the Month
Superman #7 (DC)
By Peter J. Tomasi and Patrick Gleason with art by Jorge Jimenez and Alejandro Sanchez
So last time, I named Superman #6 my best book for it's epic action – this time, I'm saying Superman #7 was the best book for the the exact opposite.  This was a quiet, character book and well worth it.  We get an examination of the "Smiths" in their hometown and we get to see them act as family.  Mr. Tomasi and Mr. Gleason give the family a great dynamic – from Jon's enthusiasm to Lois's motherly touch everything in this book is well written.  I hope we see some difference between Clark and Jon going forward.  While I like his characterization, I also hope we get a different take on the young man's superhero career.  And if the last two pages don't make you at the least smile… well, then I think you missed something special.

Books I want to Discuss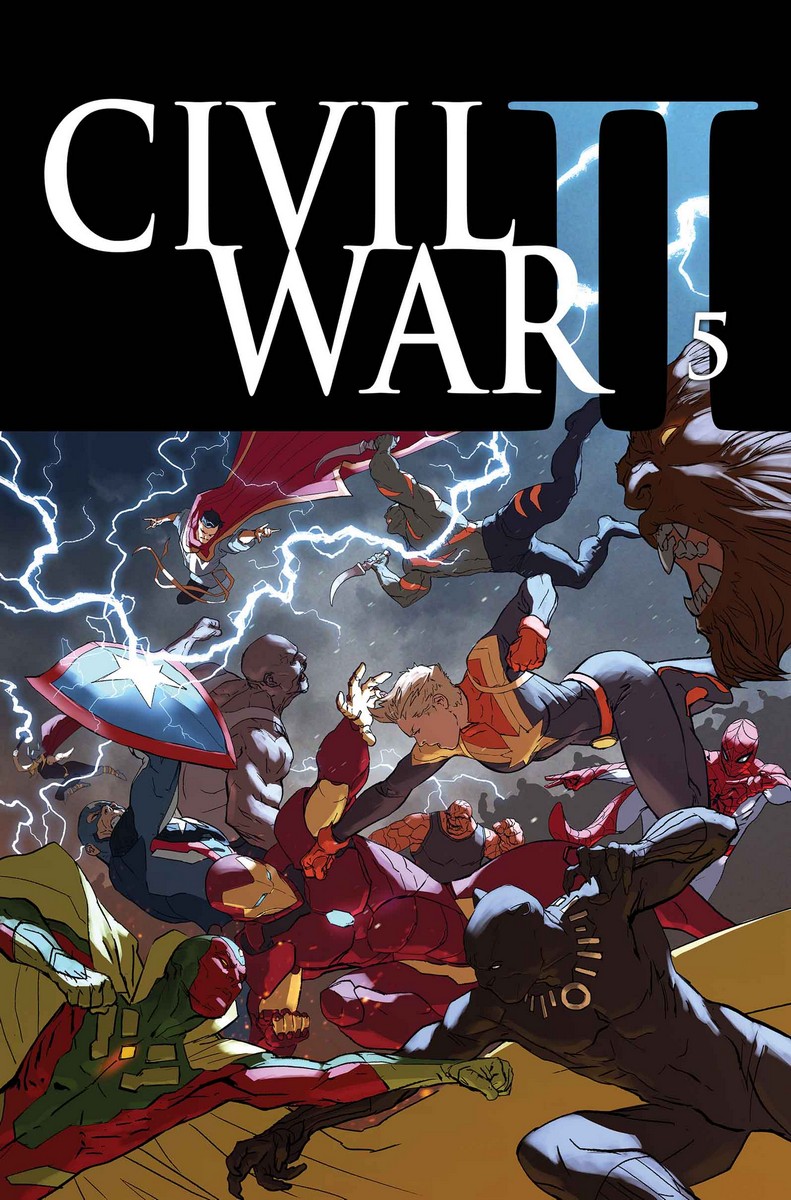 Civil War #5 (Marvel)
By Brian Michael Bendis with art by David Marquez and Justin Ponsor
VILLAIN
Oh, FUCK YOU, Marvel.  Are you serious?  This book was a shit show.  There is absolutely no motivation for who's on who's side from the main series.  Like why is Thor on Iron Man's side?  Anybody?  And the stupidity of some of the moments – Peter is showering while this is going on?  Sam Wilson won't fight Magik, but it's not a "boy/girl thing".  AND HOW THE FUCK DOES CAROL'S SIDE EVEN STAND A CHANCE?  Tony has Vision and Thor – Thor is obviously a GOD and Vision just took down everyone on both sides in his own book (we'll get to that).  Jesus Christ, they are the most powerful characters in the Marvel Universe.  Who does Carol have?  A talking raccoon and a midget.  And that last page reveal?  Shame it was spoiled by the COVER OF YOUR NEXT BOOK.  And the delays have killed this series – it won't end now til next year, but it's ok cause the All-New Marvel NOW will make it irrelevant.  Again.  I'm in for one more book.  I will see if Mr. Bendis can dig Captain Marvel out of the hole she's in (I doubt it), but if this doesn't get better, I'm out.  I am tired of Marvel dragging the characters I like through the mud and that's what this feels like.
Detective Comics #940 (DC)
By James Tynion IV with art by Eddy Barrows, Eber Ferreira, and Adriano Lucas
HERO
I am not afraid to say this: I got choked up on this one.  Until the last few pages, I really thought they had done it.  And the beauty of the scene cannot be denied.  It was raw and the idea that Tim was going to leave shook Batman in the right way.  The biggest question I have is what game is Mr. Oz playing?  We're all assuming he's the villain – but death would have taken Tim off the board as easily as this did.  Plus there was the reference to joining "us".  Tim is my Robin – he was introduced as I was coming in as I was growing up and his generation of heroes has always been the ones I cared about the most.  So I wonder if some of our other missing heroes aren't with him.  Is it possible that Conner Kent and Bart Allen are still out there in their original forms?  Connections to be made.  One can only hope.
Trinity #1 (DC)
By Francis Manapul
HERO
Someone should send a copy of this book over to Marvel to show them how adult heroes actually should settle their differences and misgivings.  On farm.  Over dinner.  Of wild boar (cause I'm pretty sure they ate it).  Three heroes got together for the first time here.  And while it felt somewhat rushed, it was what needed.  With their "Rebrith" of old concepts, the Trinity could not take very long to get together.  And the art here was fantastic.  Mr. Manapul is amazing – if you read this just in guided view, just go back outside of that view and drink in the art.  It is amazing.  Solid start to this book.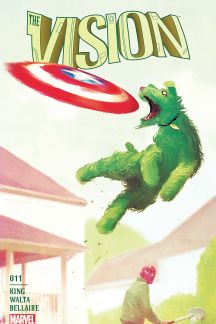 Vision #11 (Marvel)
By Tom King with art by Gabriel Hernandez Walta and Jordie Bellaire
I'm not sure what else I can say about this book that I and so many others haven't said already.  This is an amazing book and I am sorry that the next issue will be it's end.  Before the end, I may reread the whole series.  Also, as I noted above, Vision is much more powerful than we would have imagined.  He took out that whole roof top of heroes without much trouble.  Makes you wonder what he could do if he really put his mind to it.

Just a quick word about these
Action Comics #964 (DC): All right, so Clark is Clark and Superman is Clark but not Clark.  And I'm impressed.  I thought this would be resolved by the end of the issue.  Didn't think it would last this long.
All-New Wolverine #12 (Marvel): How is it that a the lightest of tie-in books can show the conflict better than the main series?
Britannia #1 (Valiant): Romans!  Cthulhu!  Britain!  Sure.  I'm in.
Civil War II: Amazing Spider-Man #4 (Marvel): How the hell does Spider-Man keep winding up on the wrong sides of these things?
Civil War II: Gods of War #4 (Marvel): Well, that was a hurried and shitty end to great story.
Doom Patrol #1 (DC): Well, that was certainly something wasn't it?  Just enough to bring me back for the next book.
The Mighty Thor #11 (Marvel): There had better be a good reason that hammer is suddenly able to do all of this.
Power Man and Iron First #8 (Marvel): Once more, the tie-in is a better book than the main series.  Though it helps that this was a great book to begin with.
Wonder Woman #6 (DC): Since this is still technically the New 52 Wonder Woman, I wonder if they will tie this to her first appearance in Justice League?

You should check these books out
Action Comics #963 (DC); Amazing Spider-Man #18 (Marvel); Animosity #2 (Aftershock); Atomic Robo and the Temple of Od #2 (Tesladyne); Aquaman #7 (DC); Astro City #39 (DC); Back to the Future #12 (IDW); Birds of Prey #2 (DC); Birthright #19 (Image); Black Hammer #3 (Dark Horse); Black Monday Murders #2 (Image); Civil War II: Kingpin #3 (Marvel); Cyborg #1 (DC); Deathstroke #2 (DC); Doctor Fate #16 (DC); Doctor Strange Annual #1 (Marvel); Empress #6 (Marvel); Faith #3 (Valiant); The Flash #6 (DC); Generation Zero #2 (Valiant); Green Arrow #7 (DC); Green Lanterns #7 (DC); Hal Jordan and the Green Lantern Corps #4 & #5 (DC); Josie and the Pussycats #1 (Archie); Justice League #5 (DC); Mockingbird #7 (Marvel); Ms. Marvel #11 (Marvel); New Avengers #16 (Marvel); Raven #1 (DC); Skybourne #1 (Boom); Superwoman #2 (DC); Teenage Mutant Ninja Turtles #62 (Image); Vote Loki #4 (Marvel); Wild Card #6 (Dynamite); Wonder Woman #7 (DC); Xena: Warrior Princess #6 (Dynamite)

You can skip these
Civil War II: Choosing Sides #6 (Marvel); E.V.I.L. Heroes #2 (Zenescope); The Forevers #1 (Black Mask); Frostbite #1 (DC); Nova #11 (Marvel); Seven to Eternity #1 (Image); Spider-Man #8 (Marvel); Suicide Squad #2 (DC); Thunderbolts #5 (Marvel); Titans #3 (DC)
Neither good or bad.  Just kind of there.
All-Star Batman #2 (DC); Astro City #38 (DC): Batgirl #3 (DC); Batman #7 (DC); Batman Beyond: Rebirth #1 (DC); Black Panther #6 (Marvel); Blue Beetle #1 (DC); Captain Kid #2 (Aftershock); Captain Marvel #9 (Marvel); Citizen Brown #4 & #5 (IDW); Deathstroke #3 (DC); The Fix #5 (Image); The Flash #7 (DC); Gotham Academy: Second Semester #1 (DC); Green Lanterns #7 (DC); Harley Quinn #4 (DC); Harley Quinn and her Gang of Harleys #6 (DC); The Hellblazer #2 (DC); Kim & Kim #3 (Black Mask); Mighty Morphin' Power Rangers #7 (Boom); Mighty Morphin' Power Rangers: Pink #3 (Boom); New Superman #3 (DC); Nightwing #5 (DC); Spider-Man 2099 #15 (Marvel); Spider-Woman #11 (Marvel); Star Wars #23 (Marvel); Suicide Squad #3 (DC); Suicide Squad Most Wanted: El Diablo and Boomerang #2 (DC); Surgeon X #1 (Image); Teen Titans: Rebirth #1 (DC); Totally Awesome Hulk #10 (Marvel); Ultimates #11 (Marvel); X-Men #7 (Marvel)
I'm getting out of these while I can
Kingsway West (Dark Horse): I have no clue why anyone is raving about this series.  It is not good at all.
Scooby Apocalypse (DC): Sorry, I can't do this one anymore either – like Flintstones, I tried.  But I'm out.
These books have come to end
Back to the Future: Citizen Brown
5 Issues
Bob Gale, Erik Burnham, Alan Robinson, Maria Santaolalla
Civil War II: Amazing Spider-Man(DC)
4 Issues
Christos Gage, Travel Foreman, Rain Beredo
Civil War II: Choosing Sides (Marvel)
6 Issues
Chris Brown, Chris Visions, Megan Wilson, John Allison, Rosi Kampe, Megan Wilson, Declan Shalvey, Jordie Bellaire, Chip Zdarsky, Ramon Perez, Enrique Carrion, Annapaola Martello, Ming Doyle, Stephen Byrne, Derek Landy, Filipe Andrade, Miroslav Mrva, Brandon Easton, Paul Davidson, Andrew Crossley, Chad Bowers, Chris Sims, Leonardo Romero, Miroslav Mrva, Chelsea Cain, Allison Sampson, Christina Strain, Sana Takeda, Jeremy Whitley, Marguerite Sauvage, Brandon Thomas, Marco Rudy
Civil War II: Gods of War
4 Issues
Dan Abnett, Emilio Laiso, Guru-eFX
Civil War II: X-Men (Marvel)
4 Issues
Chris Bunn, Andrea Broccardo, Jesus Aburtov
Drax (Marvel)
11 Issues
CM Punk, Cullen Bunn, Scott Hepburn, Antonio Fabela, Scott Hanna, Matt Milla, Ruth Redmond
Harley Quinn and Her Gang of Harleys (DC)
6 Issues
Frank Tieri, Jimmy Palmiotti, Mauricet, Dawn McTeigue, Hi-Fi
Nighthawk (Marvel)
5 Issues
David Walker, Ramon Villalobos, Tamra Bonvillain
Vote Loki (Marvel)
4 Issues
Christopher Hastings, Langdon Foss, Chris Chuckry, Rachelle Rosenberg, Paul McCaffrey
Web Warriors (Marvel)
11 Issues
Mike Costa, David Baldeon, Walden Wong, Matt Yackey, Terry Pallot, Scott Hanna, Rachelle Rosenberg, Jason Keith, Livesay, Jay Fosgitt, John Dell, Rick Magyar, Marc Deering
Wild Card (Dynamite)
6 Issues
Jim Butcher, Mark Powers, Carlos Gomez, Mohan, Sean Izaakse