Editor's Note: This post will remain at the top of the site through Tuesday – scroll down for the latest news!
Onwards to Secret Wars and Congervence!   While Marvel continues to release a deluge of titles for Secret Wars (up to 42!), DC lets us know what its plans are in June.  Plus new costumes, new attitudes, and new on-goings!  Welcome to Spandex and Capes!
Review List
March 11th, 2015
"Because I'm happy - Clap along if you feel like a room without a roof
Because I'm happy - Clap along if you feel like happiness is the truth
Because I'm happy - Clap along if you know what happiness is to you
Because I'm happy - Clap along if you feel like that's what you wanna do"
- Dr. Doom and The Doombots
PREVIOUSLY…
Secret Wars Update – In Secret War news (no, not the villain, we'll get to that later), Marvel has released six more titles related to Secret Wars.  First up, we have Skottie Young's Giant-Sized Little Marvel A vs X – because Avengers vs X-Men was so good we have to revisit it in baby form.   Then Mrs. Deadpool & Howling Commandos with Shiklah, Werewolf by NIght, the Living Mummy, Frankenstein, and Marcus the Unbeatable Centaur – which just goes to prove Marvel will publish anything.  Next comes, the crime drama the Squadron Sinister based on the original version of the Squadron Sinister.  Wait, I thought that was ere a mind-controlled Squadron Supreme?  I'm going to have to wiki that at some point – there's just been so many versions of the damn team.  Captain Marvel takes command a an all-female fighter squadron in Captain Marvel and the Carol Corps.  While I know this is a reference to Captain Marvel fans, I really hope every pilot in the book is named "Carol", cause that would be hysterical.  In Years of Future Past, we get to explore the fact that Kitty Pryde mentioned she had been a mother in the original series – because again, why let the alternate future fade away when you can beat the dead horse for a few more bucks.  Armor Wars will feature Tony vs Arno in a timeline where you need armor to survive.  Anyone want to place bets that Tony is the villain in this one too?  And finally, the 90s are back (oh, God) as the X-Men Animated Series returns in X-Men '92.  Hopefully this will be better than Marvel other attempts in the digital format.
I am Groot! – Spinning out of Guardians of the Galaxy, the mono-sentenced talking tree Groot will be getting his own series.  Because sure, why not?  It will be a comedy book and contain a lot of physical comedy, because that always works well in the comic book format.  It seems to be set in the past, at least in the beginning, so that may explain the book if it's not tied in to Secret Wars.  Also, if I remembering correctly, this means that everyone except Drax and Venom has an ongoing series.  This bubble is going to burst soon.
Casting Call – In casting news, Jeremy Renner will be joining the crowded Captain America: Civil War.  At this point, they may as well call it Avengers 4.  This also continues to narrow the field as to who will die in Avengers (so far it can't be Black Widow, Captain America, Iron Man, Hawkeye, or Thor).  In other news, Daredevil adds six more to the cast, mostly in villainous roles – though it's interesting because I thought filming was done on this given it premieres next month.
Walking Dead – I'm not a big Walking Dead fan, but this is big news as the Walking Dead spin-off has been green-lit for two season, even though it a) isn't titled yet and b) hasn't aired on the network yet.  AMC is putting a lot of faith in this series.
8 Pages – So, this week had a flurry of news from DC Comics.  DC talked a lot about their upcoming line and I'll dive in the specifics of that when the full solicitations hit next week.  The really big stuff was two-fold.  One, a lot of the main DC players got new costumes including Wonder Woman (which I like a lot, it's a shame it's in the Meredith and David Finch book), Superman and Batman (both of which won't last more than an arc or two), as well as for Green Lantern, Green Arrow, and the Flash (none of which are that ground breaking).  The second big part of the news, I think, is fantastic.  At the end of May, DC will be releasing an 8 pages of original story for each of the books coming out in June FOR FREE.  Each of these will introduce the new storyline or status quo for these books.  DC Editorial wants to give each book a chance to find an audience and they think this is the best way to do it.  I couldn't agree with them more.  I think this should be done with every new series coming out that way I know if I want to make room for it on my pull list or I can just skip it without having to worry about it.  Especially since there are so many titles I want to try.  This is a great move on DC's part, I just hope the servers can stand it.

Constantine
March 2013 – March 2015
24 Issues
Written by Ray Fawkes and Jeff Lemire
Art by Fabiano Neves, Juan Ferreyra, Renato Guedes, ACO, Beni Lobel, Szymon Kudranski, Edgar Salazar, and Jeremy Haun
Sidekick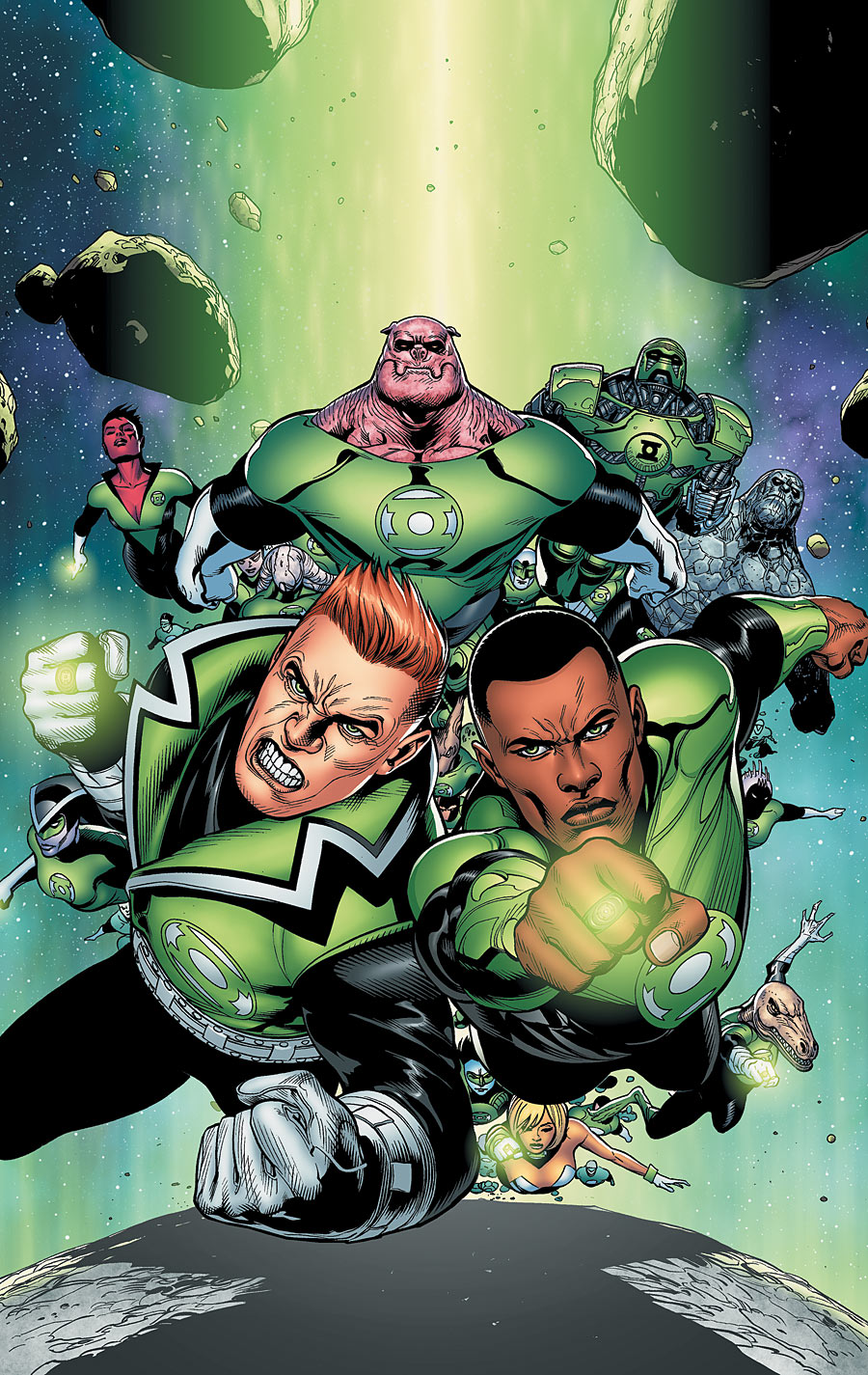 Green Lantern Corps
September 2011 – March 2015
44 Issues
By Peter Tomasi, Van Jensen, and Robert Venditti
Art by Igor Lima, Ruy Jose, Rodney Buchemi, Geraldo Borges, Fernando Pasarin, Claude St. Aubin, Chriscross, Cafu, Bernard Chang, Victor Drujiniu, Ivan Fernandez, Scott Kolins, Chris Batista, Mark Colak, Neil Edwards, and Tom Derenick
Sidekick
Klarion
October 2014 – March 2015
6 Issues
By Ann Nocenti
Art by Trevor McCarthy, Szymon Kudranski, Fabrizio Fiorentino,
Sidekick
Worlds' Finest
May 2012 – March 2015
35 Issues
By Paul Levitz, Keith Giffen, and Greg Pak
Art by Yildiray Cinar, George Perez, Kevin Maguire, Cafu, Cliff Richards, Jerry Ordway, Robson Rocha, R.B. Silva, Ken Lashley, Barry Kitson, Geraldo Borges, Emanuela Lupacchino, Scott McDaniel, Jed Dougherty, Tyler Kirkham, Scott Kolins, and Diogenes Neves
Sidekick
REVIEWS
So everyone can follow along with me, I've already cut several books from my pull over the last couple of months for various reasons.  These include: All-New X-Men, Amazing X-Men, Angela, Batgirl, Gotham Academy, Guardians 3000, Guardians Team-Up, Iron Fist, Justice League Dark, Lobo, Spider-Man and the X-Men, Superior Iron Man, Uncanny Avengers, and Uncanny X-Men.  Joining them this month is:
Ant-Man (Marvel)
By Nick Spencer with art by Ramon Rosanas
… I just can't do it.  I can't.  There is no force on Earth powerful enough to make care about Ant-Man.  Especially the semi-stalker, kind of dead beat Scott Lang.  For one thing, taking the "cushy job" in New York would have a better move for this book.  One, it would have let Scott see his daughter all the time since working for Tony Stark probably has the built in perk of using the COMPANY JET.  And second, if this was real life his wife would have had a restraining order out when he followed her to Miami.  Add into this that he's delusional (see Taskmaster) and so obscure that the villain for the first arc couldn't be named without a wikipedia search and this book i
Astro City #21 (DC)
By Kurt Busiek with art by Brent Eric Anderson
This was a great story from part one to the end.  And there no tricks. Everything that happened was exactly what should have happened.  It was what you were expecting and that was not a bad thing.  Unlike other series, where the heroes would have pulled something out and everything would go back to normal, Astro City takes two of it's major players and oldest characters off the board.  The reaction of the Samaritan is interesting as well.  It's the type of reaction I would expect Superman to have in this same situation.  I actually want to read more on his reaction now.
New Avengers #31 (Marvel)
By Jonathan Hickman with art by Kev Walker
The next time I see Jonathan Hickman I am going to kiss him right on the mouth.  From the beginning of this, I was afraid that Rabum Alal, one of the architects of  this great collapse, was going to turn out to be some misguided hero that wanted to restart the universe in a better way.  Instead, Mr. Hickman pays homage to the classic Secret Wars and presents with a god-like Victor Von Doom as he wages a war against the Ivory Castles of the Beyonders.  While we still don't know what started the war, we can now see clearly the masterminds.  And I have feeling that in the end, Doom will lead to salvation.
Amazing Spider-Man #16 (Marvel); Batman: Arkham Knight #4 (DC); Batman Eternal #49 (DC); Captain Marvel #13 (Marvel); Constantine #23 (DC); Detective Comics: Endgame #1 (DC); Dresden Files: Down Town #2 (Dynamite);  Earth 2: World's End #23 (DC); Fantastic Four #644 (Marvel); Flash Gordon #2 (King); Green Lantern Corps #40 (DC); Howard the Duck #1 (Marvel); Injustice: Gods Among Us Year Three #24 (DC); Justice League United #10 (DC); Klarion #6 (DC); Miles Morales: Ultimate Spider-Man #11 (Marvel); Mortal Kombat X #10 (DC); Ms. Marvel #13 (Marvel); New 52: Futures' End #45 (DC); New Suicide Squad #8 (DC); Sensation Comics Featuring Wonder Woman #28 (DC); Silver Surfer #10 (Marvel); Spawn Resurrection #1 (Image); Spider-Gwen #2 (Marvel); Spider-Man 2099 #10 (Marvel); Star Wars #3 (Marvel); Thor #6 (Marvel); Wolverines #10 (Marvel)
Action Comics #40 (DC)
By Greg Pak with art by Aaron Kuder
This is not bad issue – it's just not something I enjoyed.  It's especially not as the last Action Comics for the next two months.  I'm guessing it's a preview for the new Bizarro series coming in June, but I didn't want to see it here.    I would have rather had a classic Superman one-shot as a send off this part of DC's history.  Something to keep me sated because it seems that after  Convergence we might not see the classic Superman for quite some time.  It looks like we'll be getting a much darker Superman. Again, this wasn't really a bad book, it was just a disappointing one.